Sous Vide Lamb Chops with Chimichurri Compound Butter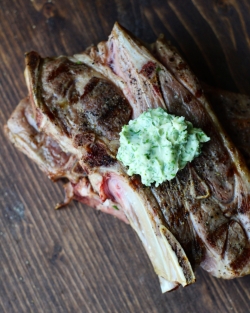 One of Erika's favorite dishes, she was well aware how tricky lamb can be to get right time after time. Enter, Anova. She uses sous vide to ensure the lamb is succulent and delicious, and pairs this cut with a fresh and vibrant chimichurri compound butter. Elegant enough for a special occasion, but simple enough for a nice night in, this sous vide meal has it all.
Author
Erika Turk
Erika snagged her first Anova when she was in college, and she wasn't your typical college student, she needed REAL food and not just packaged ramen and take-out. The Anova was a natural decision, and she's been rolling out ridiculous tasting, and looking, sous vide meals ever since.
Prep Time: 00:15
Recipe Time: 02:00
Temperature Options:
Medium rare - Tender and juicy

132F / 55.6C
Ingredients
4 lamb shoulder chops or lamb chops
Avocado Oil
Salt and pepper
1 cup firmly packed fresh parsley, finely chopped.
2 tablespoons fresh oregano
1 clove garlic, very finely minced
1 tablespoon champagne vinegar
1 tablespoon lime juice
1/4 teaspoon crushed red pepper flakes
Salt
Pepper
1/3 cup salted butter, softened
Directions
Set Anova Sous Vide Precision Cooker to 132°F / 55.5°C
Season lamb generously with salt and pepper and seal into ziplock or vacuum bags.
Submerge in bath and cook two hours.
Grill or Stovetop Finishing Steps
While lamb is cooking, combine parsley, oregano, garlic, champagne vinegar, lime juice, red pepper flakes, salt, pepper, and softened butter. Mix until combined and chill.
When the timer goes off, remove lamb from bag. Dry thoroughly, season with salt and pepper, and sear on a hot grill or in a cast-iron skillet with avocado oil.
Serve lamb chop with a scoop of chimichurri compound butter.