Sous Vide Kobe Beef Burger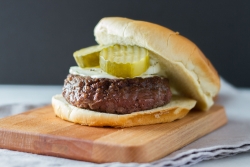 Want the best burger ever? Make it from Kobe, an exclusive beef grade from cattle raised in Kobe, Japan, then sear the patties before cooking them to perfection in the Anova Sous Vide Precision Cooker. You won't have to worry about overcooking this delicious — and expensive — meat.  
Author
Emily Farris and Jeff Akin
Emily Farris and Jeff Akin are the co-founders of Feed Me Creative, a former culinary creative agency in Kansas City, MO.
Prep Time: 00:15
Recipe Time: 00:30
Temperature : 140F / 60C
Ingredients
1 pound ground kobe sirloin beef
1 large egg
1 teaspoon kosher salt
1/2 teaspoon freshly ground black pepper
1 tablespoon extra virgin olive oil
Directions
Set the Anova Sous Vide Precision Cooker to 140°F (60°C).
In a medium bowl, mix the beef, egg, salt, and pepper. Divide in half and form into two patties.
In a large skillet, heat the oil over high heat. When the oil just begins to smoke, add the patties and sear until golden brown, about 1 minute. Flip and sear for 1 minute.
Transfer burgers to a plate and cool for 10 minutes. Place in a large zipper lock or vacuum seal bag. Seal the bag using the water immersion technique or a vacuum sealer on the moist setting. Place the bag in the water bath and set the timer for 30 minutes.
Finishing Steps
When the timer goes off, remove the bag from the water bath. Remove the burgers from the bag, pat dry, and serve.