Sous Vide Jamaican Jerk Wings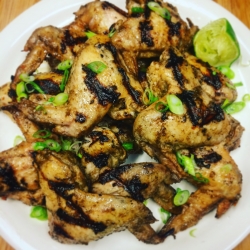 This sous vide chicken recipe from Patrick Mathieu brings a little taste of the islands right into your own! He gives the wings a wicked flavorful marinade before cooking them to a juicy and tender state, before finishing on a hot grill for some char!
Author
Patrick Mathieu
Food, family, and firefighting pretty well sums up what Patrick loves. Recently he discovered sous vide, and it has taken his already stellar cooking game to the next level. Patrick uses Anova while at home, but also at the firehouse. Routinely serving up family-style meals worthy of high-praise, he keeps his fellow firefighters well fed and ready to go into action whenever necessary!
Prep Time: 00:15
Recipe Time: 02:00
Temperature : 140F / 60C
Ingredients
3lbs whole chicken wings
1 small onion, roughly chopped
3 green onions, roughly chopped
3 large garlic cloves, roughly chopped
1 Scotch bonnet or habanero chile, stemmed (if you want em' hot, leave in the seeds!)
1/4 cup fresh lime juice
3 tablespoons olive oil
3 tablespoons soy sauce
2 tablespoons packed brown sugar
1 1/2 tablespoons kosher salt
1 tablespoon fresh thyme leaves
2 teaspoons ground allspice
2 teaspoons black pepper
1 teaspoon ground ginger
3/4 teaspoon freshly grated nutmeg
1/2 teaspoon cinnamon
Directions
Set Anova Sous Vide Precision Cooker to 140°F / 60°C
Place the onion, green onion, garlic, habaneros, lime juice, soy sauce, olive oil, salt, brown sugar, thyme, allspice, black pepper, ginger, nutmeg, and cinnamon in the jar of a blender or food processor and puree until smooth.
Place chicken wings in a large Ziploc bag and pour in marinade. Seal bag, pressing out as much air as possible and marinate for at least an hour.
Seal the bag using the water immersion method and place the bag in the water bath for 2 hours.
Grill Finish
When the timer goes off, remove the bag from the water bath and remove the wings from the plastic bag.
Light a charcoal or gas grill and set it up for direct heat medium/high. When the grill is good and hot add the wings. Grill, turning the wings as needed until nice grill marks form on both sides and the wings start to crisp, about 8-10 minutes total. Transfer the wings to a serving platter and let rest for a couple minutes. Sprinkle wings with sliced green onion and a squirt of fresh lime juice. Enjoy!