Sous Vide Italian Meatloaf with Provolone Cheese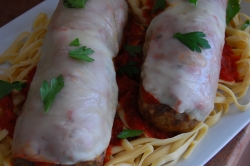 This meatloaf combines my favorite meatball ingredients, then tops it off with provolone cheese--no one can resist this tasty variation on the American meatloaf classic.
Author
Barbara Freda
I grew up in a cooking family and after getting a degree in Spanish and Anthropology, realized what I really wanted to do was to go to culinary school. After working in a NYC bank for a few years, I managed to get to culinary school and got my first jobs in NYC kitchens, including a long stint at Union Square Cafe in its earliest years. After (sadly) leaving NYC, I realized I needed to step away from the 80-hour work weeks, so I left the heat of the kitchen for the cool of the computer keyboard: I started writing about food, the business of food, and technology in the food industry, as well as teaching cooking classes. Recipe development remains one of my top loves, and the opportunity to develop recipes for Anova has been fun every step of the way.
Prep Time: 00:10
Recipe Time: 03:00
Temperature : 140F / 60C
Ingredients
1 pound (.5 kilo) ground beef
1 pound (.5 kilo) sweet Italian sausage
½ onion, finely chopped
1 teaspoon (1g) dried oregano
¼ cup (8g) fresh chopped basil
2 eggs
¼ cup (28g) seasoned breadcrumbs
3 ounces (85g) grated Parmesan cheese
Salt and Pepper to taste
½ cup prepared tomato sauce
2 ½ ounces (69g) sliced provolone cheese
Directions
Heat water to 140ºF/60ºC using Anova Precision Cooker.
Mix beef, sausage, onion, oregano, basil, eggs, breadcrumbs, Parmesan and salt and pepper. Mix a few minutes to make sure ingredients are well combined.
Shape into 2 loaves and seal each loaf into separate zip-close plastic bags, using water immersion method to create vacuum. Place into heated water and cook 3 hours.
Finish Steps: Oven
Heat oven to 450ºF/ ºC. Gently remove meatloaves from bags. Place loaves on ovenproof dish. Top each with equal amounts tomato sauce and provolone cheese slices. Place on top rack of oven and heat until cheese is melted, 5 minutes.
Let loaves rest 5 minutes, then slice and serve with pasta.