Sous Vide Honey Miso Butter Corn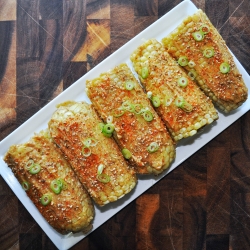 Juicy and tender corn on the cob. The perfect summer treat. Now it's easier than ever with Anova. Paired with an umami-bomb slathering of honey miso butter, it's a slam dunk!
Author
Reuel Evans
A confessed gadget junkie who loves to cook, when Reuel discovered Anova, it was a game-changer. Reuel uses Anova to ensure his meals are expertly cooked every time. As a busy elementary school teacher, Reuel says he loves the flexibility the Anova allows him when it comes to timing. Whether he's cooking for him and wife, or a dinner party with friends, people are proclaiming perfection!
Prep Time: 00:15
Recipe Time: 00:30
Temperature : 183F / 83.9C
Ingredients
4 ears corn
6 tbsp butter, at room temperature
3 tbsp red miso paste
1 tsp honey + more for drizzling when plating
Togarashi to taste
Sesame oil to taste
1 scallion, thinly sliced
1 tsp toasted sesame seeds
Directions
Set Anova Sous Vide Precision Cooker to 183°F / 83.9°C
Remove husks and silk from corn and cut ears in half. Slather 2 tsp of butter on each piece of corn
Vacuum seal corn, or place in resealable ziplock bags. Cook for 30 minutes.
Finishing Steps
While corn is cooking, combine 4 tbsp butter, 2 tbsp miso paste, 1 tsp honey, togarashi and sesame oil in bowl and whisk until thoroughly combined. Rest in fridge for 30 minutes.
For finishing, you can finish the corn with a torch, searzall, on the grill or in the broiler to create a nice char. Spread a thin layer of honey miso butter on corn and sprinkle sesame seeds, togarashi, and scallions on top and drizzle with extra honey if desired.