Sous Vide Honey Dijon Rack of Lamb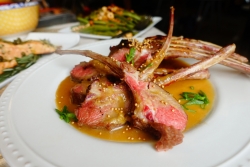 Lamb always tastes like a celebration, but especially when it's infused and drizzled in a gorgeous honey-Dijon mustard sauce with crunchy toasted mustard seeds for garnish. Serve alongside some green beans and mashed potatoes for a simple and satisfying dinner!
Author
Nicole Poirier
Chef Nicole is our Content Development Chef at Anova Culinary, devoted to help making your sous vide recipe dreams come true and writing informative blog posts to aid you along the way. She attended culinary school at Ecole Ritz-Escoffier at the Ritz Hotel in Paris, France and worked as a restaurant chef in Rhode Island before becoming an award-winning international yacht chef. Chef Nicole has worked alongside Anova Culinary since our Kickstarter in 2014 and officially joined the team in November, 2016. She has a specialty private event and catering business and and enjoys teaching cooking to clients throughout the Bay Area.
Prep Time: 00:05
Recipe Time: 01:00
Temperature Options:
Medium rare - Medium-Rare

135F / 57.2C
Ingredients
1 rack of lamb, trimmed (about 1.25 lb/~570 g)
3 Tablespoons runny honey
2 Tablespoons Dijon mustard
1 teaspoon white or sherry wine vinegar
1/4 teaspoon salt
2 tablespoons avocado or other high-smoke point oil
Optional: toasted mustard seeds & chopped green onion for garnish
Directions
Set your Anova Precision Cooker to 135ºF/57.2ºC
In a small bowl, combine everything but the lamb and whisk until combined
Place the trimmed lamb meat-first into a zip-locking bag or silicone pouch and pour the sauce over it
Using the immersion method, release as much air as possible from the bag
Place the bag in the bath and set the timer for 1 hour
Finishing Steps
Remove the bag from the bath and the lamb itself from the bag, placing on a serving plate, setting the juice-filled bag aside
Heat the 2 tablespoons of oil in a frying pan over medium-high heat. When it shimmers and flows easily around the pan, place meatiest-side down to sear. Let it sear, undisturbed, for 2 minutes before turning to sear other sides. Repeat the process for each side
Slice into individual chops or pieces of your design. Drizzle with bag sauces, garnish with mustard seeds and green onion, and enjoy!