Sous Vide Hollandaise Sauce For Eggs Benedict and More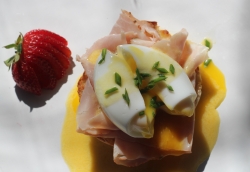 We've eliminated the unnecessary worry over broken sauces with this easy sous vide hollandaise recipe. In just over an hour you will have a luscious lemony sauce that is perfect over classic Eggs Benedict or drizzled atop grilled asparagus.
Author
sheriwetherell
Food. Drink. Travel. News. Founders of the International Food Blogger Conference (@IFBC) @Foodista
Prep Time: 00:15
Recipe Time: 01:15
Temperature : 149F / 65C
Ingredients
8 tablespoons unsalted butter
3 large egg yolks, beaten
1 tablespoon freshly squeezed lemon juice
1/2 teaspoon salt
1 generous pinch dry mustard
Ground white pepper
Directions
Set the Anova Sous Vide Precision Cooker to 149° F (65° C).
Combine butter, egg yolks, lemon juice, salt, and mustard in a wide mouth glass jar with a tight-fitting lid. Seal and place in the water bath. Set the timer for 25 minutes.
When the timer goes off, remove the jar from the water bath. Shake well. Return to the water bath and set the timer for 50 minutes.
Finishing Steps
When the timer goes off, remove the jar from thee water bath. Remove lid and process with an immersion blender until smooth, 3 to 4 minutes. (Alternatively, transfer sauce to a standard blender and blend until smooth.) Note: the sauce will look broken and lumpy before blending. Fear not, it will come together!
Season to taste with white pepper and serve immediately.