Sous Vide Ginger Marmalade Chicken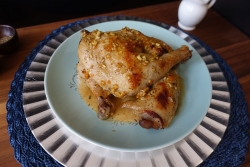 Sweet marmalade + slightly spicy ginger + perfectly juicy sous vide chicken legs make one winning combination. Of course I had to bring them together to create a dish that would be perfect for a weeknight, a dinner party, or even Hanukkah!

Author
Nicole Poirier
Chef Nicole is our Content Development Chef at Anova Culinary, devoted to help making your sous vide recipe dreams come true and writing informative blog posts to aid you along the way. She attended culinary school at Ecole Ritz-Escoffier at the Ritz Hotel in Paris, France and worked as a restaurant chef in Rhode Island before becoming an award-winning international yacht chef. Chef Nicole has worked alongside Anova Culinary since our Kickstarter in 2014 and officially joined the team in November, 2016. She has a specialty private event and catering business and and enjoys teaching cooking to clients throughout the Bay Area.
Prep Time: 04:00
Recipe Time: 04:25
Temperature : 170F / 76.7C
Ingredients
2 lbs or 4 pieces bone-in & skin-on chicken legs
4 Tbsp prepared marmalade of your choosing
2 Tbsp minced ginger (about 2
Salt & pepper
Directions
Set your Anova to 170º F/ 76.5ºC.
Season chicken with salt & pepper
Place all of your ingredients in the bag you plan to use and seal after releasing air with immersion method.
Place bag into prepared water bath and set timer for 4 hours.
Finishing Steps
Remove from water bath and transfer to a baking tray (I like to line mine with parchment paper for easy cleanup!)
Heat your broiler to 500ºF/260ºC/High setting. Arrange the rack beneath to be 8"/~20cm away from the heat.*
Place the chicken in the oven and broil for 8 - 10 minutes, until the skin turns golden brown and slightly crisped.
Remove from oven, serve, and enjoy!
*If you have a low profile bottom-of-stove broiler or just a salamander, reduce the cooking time to 4 - 5 minutes, and keep an eye on it to make sure you don't char the skin! Alternately, you are welcome to torch as opposed to using the oven.