Sous Vide Garlic Shrimp with Baby Arugula in Creamy Wine Sauce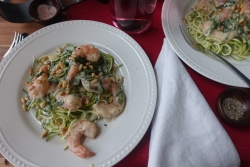 This is an elegant dish that can come completely together in 45 minutes or less, and sous vide shrimp are SO GOOD! Plump, juicy, and tender without getting overcooked like an extra minute in poaching water can do. This recipe is decadent enough for a holiday but easy enough to make a weekday-regular. And that cream sauce, though!
Author
Nicole Poirier
Chef Nicole is our Content Development Chef at Anova Culinary, devoted to help making your sous vide recipe dreams come true and writing informative blog posts to aid you along the way. She attended culinary school at Ecole Ritz-Escoffier at the Ritz Hotel in Paris, France and worked as a restaurant chef in Rhode Island before becoming an award-winning international yacht chef. Chef Nicole has worked alongside Anova Culinary since our Kickstarter in 2014 and officially joined the team in November, 2016. She has a specialty private event and catering business and and enjoys teaching cooking to clients throughout the Bay Area.
Prep Time: 00:20
Recipe Time: 00:30
Temperature Options:
Tender and succulent

137.5F / 58.6C
Ingredients
1 lb/450 g shrimp or prawns, shelled and deveined (we used U-20 size)
2 c/473ml heavy cream
1 c/236ml white wine
1 c/60g packed baby arugula/rocket
4 cloves garlic
2 tsp olive oil
1/4 tsp/1.2g + a pinch of salt
1/4 tsp/.5g pepper
1/4 c pine nuts, toasted
1 Tablespoon of butter
Directions
Set your Anova Precision Cooker to 137.5ºF/58.6ºC.
Slice your garlic thinly and make sure all shrimp are cleaned.
Place shrimp, garlic slices, 1/4 tsp salt & pepper, and olive oil into a zip-locking or vacuum seal bag.*
If zip-locking, use the immersion method to release as much air as possible from the bag.
Place the bag into the heated bath and set timer for 30 minutes.
*NOTE: You can add the lest of a lemon here for a hint of citrus, too! Completely optional.
While the Shrimp Cooks
Combine the cream, wine, butter, and pinch of salt in a saute pan on the stovetop over medium high heat.
Bring to a boil and reduce heat to low-medium, allowing it to simmer and stirring occasionally.
Reduce by half to 2/3, until it "coats the back of a spoon". You will know when it is ready when you can dip a spoon, swipe a finger across it, and see no drips.
Either remove from heat, or turn to lowest setting while shrimp finishes cooking.
Finishing Steps
When the shrimp is done, pour straight from the bag into the cream sauce.
Stir to coat.
Add 3/4 of the arugula and stir to wilt. Reserved 1/4 c can be used for garnish if desired.
Serve 1/2 cup to 1 cup of mixture over pasta, rice, polenta, or zucchini noodles like we did. Garnish with toasted pine nuts (optional, but delicious!).