Sous Vide Funfetti Cupcakes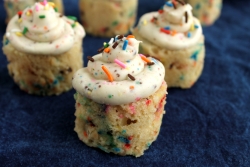 Anyone who grew up in the '90s knows that Pillsbury's Funfetti Cake -- with a tender, sweet crumb and bursts of rainbow sprinkles -- was the ultimate birthday cake. Here, we've given it a modern re-vamp in the Anova Precision Cooker. Cooked in small canning jars, the ultra-moist miniature cakes get a thick swirl of vanilla icing and a final flourish of sprinkles. Make them for your next party!
Note: Unlike most sous vide recipes, I make these cupcakes using small, half-pint canning jars to form petite cakes. Cooking the cake batter in a bag would make a bag-shaped cake instead of round cupcakes!
Author
Kate Itrich-Williams
Prep Time: 00:45
Recipe Time: 03:00
Temperature : 195F / 90.6C
Ingredients
12 ounces (3 sticks) unsalted butter, at room temperature
3/4 cup (150 grams) granulated sugar
2 large egg whites
3 tablespoons (15 ml) vegetable oil
1 tablespoon plus 1/2 teaspoon (17 ml total) vanilla extract
1 1/4 cup (150 grams) unbleached cake flour
1 teaspoon (5 grams) baking powder
Salt
1/2 cup plus 1 tablespoon (133 ml total) whole milk
2 (1.75-ounce) jars rainbow sprinkles (about 2/3 cup)
2 cups (250 grams) confectioner's sugar
Directions
Set the Anova Sous Vide Precision Cooker to 195ºF (90.6ºC). Generously grease 6 half-pint canning jars with non-stick oil spray or butter.
Combine 1 stick butter and granulated sugar in the bowl of a stand mixer fitted with a paddle attachment. Beat the mixture on medium-high speed until light and fluffy, 3 to 5 minutes.
Beat in the egg whites one at a time until combined. Beat in vegetable oil and 1 tablespoon vanilla until smooth.
In a medium bowl, whisk together flour, baking powder, and a generous 1/4 teaspoon salt.
With the mixer on low speed, add the flour mixture in 3 additions, alternating with the 1/2 cup milk. End with the flour mixture and mix until just combined.
Add 1 jar (1/3 cup) sprinkles and mix until just combined.
Divide the batter between the prepared jars. Each jar should be no more than half full. Wipe off sides and tops of jars using a damp towel. Firmly tap jars on the counter to remove air bubbles.
Place lids and bands on jars and seal until just tight (do not over-tighten jars; air will still need to escape). Place jars in water bath and set the timer for 3 hours.
Finishing Steps
When the timer goes off, remove the jars from the water bath. Place on a cooling rack. Carefully remove the lids. Let the cakes cool to room temperature.
Meanwhile, prepare the frosting: Combine remaining 2 sticks butter and confectioner's sugar in the bowl of a stand mixer fitted with a paddle attachment. Beat the mixture on medium-high speed until light and fluffy, 3 to 5 minutes.
Add remaining tablespoon milk, remaining 1/2 teaspoon vanilla, and a pinch of salt. Continue to beat on high speed until mixture is very light in color and fluffy, 3 to 5 more minutes. Reduce speed to medium-low and add 2 tablespoons sprinkles. Mix to combine.
When the cakes are cool, run a knife around the sides of the jars and carefully un-mold cakes. Using a very sharp knife, slice each cake in half horizontally to form cupcakes. Transfer to a serving platter and pipe frosting on top of each cupcake. Top with remaining sprinkles. Serve.