Sous Vide Filet Mignon with Stroganoff Sauce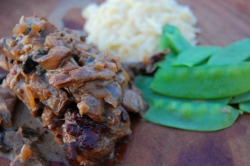 A Stroganoff recipe typically calls for cubed beef, but I couldn't bear to cut my steaks in to cubes as they were just so nice as they were. Instead, I made the stroganoff sauce separately after I seared the steaks and placed them into the Anova Precision Cooker water bath. The result? Using the steak juices provides additional flavor, adding an extra layer of perfection to this recipe. Serve and enjoy - you'll want to create this dish again and again!
Author
Barbara Freda
I grew up in a cooking family and after getting a degree in Spanish and Anthropology, realized what I really wanted to do was to go to culinary school. After working in a NYC bank for a few years, I managed to get to culinary school and got my first jobs in NYC kitchens, including a long stint at Union Square Cafe in its earliest years. After (sadly) leaving NYC, I realized I needed to step away from the 80-hour work weeks, so I left the heat of the kitchen for the cool of the computer keyboard: I started writing about food, the business of food, and technology in the food industry, as well as teaching cooking classes. Recipe development remains one of my top loves, and the opportunity to develop recipes for Anova has been fun every step of the way.
Prep Time: 00:20
Recipe Time: 00:45
Temperature : 133.7F / 56.5C
Ingredients
½ ounce dried porcini mushrooms
1 ½ tablespoons vegetable oil
½ tablespoon unsalted butter
2 (6-ounce) filet mignon steaks
Salt and freshly ground black pepper
½ cup chopped onion
8 ounces sliced white mushrooms
1 clove garlic, minced
¼ cup dry sherry
½ cup beef stock
3 tablespoons sour cream
1 teaspoon Worcestershire sauce
1 tablespoon vegetable oil
Directions
Set the Anova Sous Vide Precision Cooker to 133ºF (56.5ºC) for medium rare.
Place porcini mushrooms in a heatproof bowl. Pour about ½ cup boiling water over mushrooms and let steep while preparing remaining ingredients.
Heat 1/2 tablespoon vegetable oil and the butter in a large cast-iron skillet over medium-high heat. Pat steaks dry with paper towels, season with salt and pepper, and sear for 1 minute on each side.
Place the steaks in a large zipper lock bag and seal using the water immersion technique or a vacuum sealer on the moist setting. Place in the water bath and set the timer for 45 minutes.
While steaks cook, heat the same cast-iron skillet over medium high heat. (Do not clean the skillet—you want to retain the flavor and fat from the seared steaks.) Add the onion and sauté until softened, 3 to 5 minutes. Add the mushrooms and garlic and cook until almost all of the liquid from the mushrooms has evaporated, about 10 minutes.
Meanwhile, remove the porcini from the soaking water and transfer to a cutting board. Pour the soaking water through a fine-mesh strainer into a small bowl to remove any dirt or grit. Reserve soaking water.
Roughly chop the porcini and add to the skillet. Add the sherry and bring to a rapid simmer, scraping up any browned bits from the bottom of the skillet. Add the beef stock and reserved porcini liquid. Bring to a boil, and then reduce heat to medium. Continue to simmer until the broth is reduced by half.
Reduce the heat to low. Stir in sour cream and Worcestershire sauce. Cook gently until sauce is thickened, and then remove from heat. Cover to keep warm.
Finishing Steps
When the timer goes off, remove the bag from the water bath. Remove the steaks the bag. Pour any juices from the bag into the mushroom sauce. Pat steaks very dry with paper towels.
Heat the remaining 1 tablespoon vegetable oil in a non-stick skillet over medium-high heat. When the oil is shimmering, add the steaks. Sear until well-browned, about 1 minute per side. Transfer the steaks to serving plates and let rest for 5 minutes. Top with sauce and serve.