Sous Vide Fig Compote with Star Anise and Pastis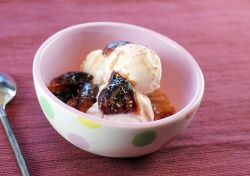 Fresh figs can be both a blessing and a curse. That's because the intensely honey-sweet fruits tend to ripen all at once on the tree. When they are at their best – so soft that their thin skins just about split – they also are at their most perishable.
You can only eat so many of them fresh. So baking or cooking them is a great way to extend their life.
Cooking them into a syrupy compote makes them even more delicious, especially one flavored with star anise and pastis. The dried, flower-shaped seed, along with the French aperitif lend a sophisticated licorice-like flavor. It's a taste of Provence that you'll want to spoon over ice cream, Greek yogurt, oatmeal or toasted pound cake. Or accent a cheese plate with alongside candied walnuts.
Making the compote with a precision cooker means you can just stick all of the ingredients in a vacuum-sealed bag and forget about it rather than having to constantly stir it on the stovetop to ensure it doesn't stick or burn.
Thankfully, figs have two seasons a year – early summer, and then late-summer into early fall. That means twice the time to enjoy this wonderful compote.
Author
Carolyn Jung
Carolyn Jung is a James Beard Award-winning Bay Area food journalist, whose work has appeared in the San Francisco Chronicle, Every Day with Rachael Ray, Coastal Living, Via magazine, Food Arts, Edible Silicon Valley, Wine Spectator and other publications. She is the former staff food writer for the San Jose Mercury News. Her debut cookbook "San Francisco Chef's Table'' published in December 2013. She is also the creator of the acclaimed blog, FoodGal.com.
Prep Time: 00:15
Recipe Time: 00:45
Temperature : 179.6F / 82C
Ingredients
1 basket (about 12 ounces) fresh figs, stems removed
1 tablespoon (18 mL) pastis
1 star anise
1 tablespoon (15 g) cold, unsalted butter
3 tablespoons (45 g) dark brown sugar
2 tablespoons (36 mL) honey
Pinch of salt
Directions
Place the Anova in a large pot of water and set it to 82 degrees Celsius (179.6 Fahrenheit).
Place all the ingredients in a plastic bag and vacuum seal it.
When the water has reached the optimum temperature, add the bag to the pot. Allow to cook for 30 minutes.
Remove the bag from the pot and transfer the contents to a small bowl or container with a lid. The compote will be a little thin at this point, but will thicken more as it cools or after being refrigerated.
Finishing Steps -- To Serve
Use warm or chilled. The compote will keep, covered in the refrigerator, for about a week.