Sous Vide Eggplant with Sichuan Chile Bean Sauce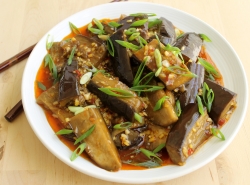 I can't tell you how many times I've talked to people who claim to dislike eggplant. The problem, I've decided, isn't the eggplant — it's the cooking method. Prepared improperly, eggplant can be spongy, dry, and bitter. Cooked sous vide using the Anova Precision Cooker, however, eggplant turns sweet and silky smooth every time. Here, I've tossed the cooked eggplant in a funky, spicy Sichuan-style chile bean sauce that complements the silky smooth texture of the eggplant. It makes for a delicious (and easy) vegetarian main dish. You can find Sichuan chile bean paste at Asian grocery stores or in the Asian section of some Whole Foods markets.
Author
Kate Williams
Kate is a freelance food writer and editor living in Berkeley, CA. Before moving to the Bay Area, Kate spent two years working as a test cook at America's Test Kitchen, and has contributed to Serious Eats, The Oxford American, KQED and The Hypocrite Reader, among others. She's currently the editor of Berkeleyside NOSH.
Prep Time: 00:20
Recipe Time: 03:00
Temperature : 185F / 85C
Ingredients
1 medium eggplant sliced into 1/2-inch planks
Kosher salt
2/3 cup plus 1 tablespoon (172 mL total) water
3/4 teaspoon (3.7 mL) tapioca starch
3 tablespoons (44 mL) vegetable oil
1 1/2 tablespoons (22 mL) Sichuan chile bean paste
1 tablespoon (15 mL) chopped fresh ginger
4 cloves chopped garlic
2 teaspoons (9.8 mL) granulated sugar
1/4 cup (59 mL) thinly sliced scallions
Directions
Set the Anova Precision Cooker to 185ºF (85ºC).
Place the eggplant in a single layer in a large zipper lock or vacuum seal bag. Seal the bag using the water immersion technique or a vacuum sealer on the dry setting. Place in the water bath and set the timer for 3 hours. (If using zipper lock bags, you will need to weigh down the eggplant to keep it submerged.)
Finishing Steps
When the timer goes off, remove the bag from the water bath. Remove the eggplant from the bag and slice into 2-inch pieces. Season with salt.
In a small bowl, whisk together 1 tablespoon water with the tapioca starch. Set aside.
Heat oil in a large skillet over high heat. When the oil is shimmering, add the chile bean paste. Cook, stirring constantly, until fragrant, about 30 seconds. Add the ginger and garlic and cook until fragrant, about 30 seconds. Add the remaining 2/3 cup water and sugar and bring to a simmer. Add the eggplant and stir to coat. Simmer for 2 minutes.
Re-whisk the tapioca-water mixture and add to the skillet. Continue to cook until thickened, 30 seconds to 1 minute. Remove from the heat and season to taste with salt. Transfer to a serving plate and garnish with scallions. Serve.