Sous Vide Eggplant Lasagna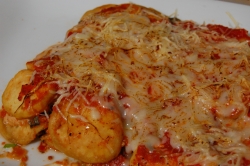 This recipe is so delicious, you won't even know that it doesn't call for meat. We promise.
If you're craving carbs, serve this over pasta or use as a great sandwich filling.
Our tip:Because so much liquid comes out of the eggplant during cooking, drain the lasagna well.
Author
Barbara Freda
I grew up in a cooking family and after getting a degree in Spanish and Anthropology, realized what I really wanted to do was to go to culinary school. After working in a NYC bank for a few years, I managed to get to culinary school and got my first jobs in NYC kitchens, including a long stint at Union Square Cafe in its earliest years. After (sadly) leaving NYC, I realized I needed to step away from the 80-hour work weeks, so I left the heat of the kitchen for the cool of the computer keyboard: I started writing about food, the business of food, and technology in the food industry, as well as teaching cooking classes. Recipe development remains one of my top loves, and the opportunity to develop recipes for Anova has been fun every step of the way.
Prep Time: 00:35
Recipe Time: 03:30
Temperature : 183F / 83.9C
Ingredients
2 pounds (1 kilo) eggplant
2 teaspoons (12g) kosher salt
1 1/2 cups (350 ml) prepared tomato sauce
4 ounces (112g) fresh mozzarella, thinly sliced
2 ounces (56g) grated Parmesan cheese
4 ounces (112g) grated "Italian Blend" cheese
¼ cup (63ml) chopped fresh basil
1 tablespoon (15g) seasoned breadcrumbs
Directions
Heat water to 183ºF/83.9ºC using Anova Precision Cooker.
While water heats, peel eggplants, slice into thin rounds and toss with salt. Place in colander in sink and let drain 30 minutes. Rinse after 30 minutes and pat dry. While eggplant drains, get remaining ingredients ready.
Lay zip-close plastic bag on its side. Open bag and cover bottom of bag with layer of eggplant rounds, overlapping slightly. Spoon in ½ cup (125 ml) tomato sauce. Top with mozzarella, 1 ounce (28g) Parmesan and 3 ounces (84g) grated blend, then the fresh basil. Top this with another layer of eggplant rounds and an additional ½ cup (125 ml) tomato sauce.
Carefully seal the bag, keeping it as flat as possible, using water immersion method to create vacuum. Place bag flat into cooking water. Cook 3 hours. (You may have to release air 2 or 3 times during first 30 minutes of cooking time, as eggplant gives off gasses as it cooks.)
Finishing Steps: To Serve
When eggplant is done, remove from water. Clip one corner of cooking bag and drain liquid from bag. Lay bag flat on serving platter, cut open and gently slide the layered eggplant onto platter. Let rest 10 minutes. Tip off any more liquid.
Top eggplant with remaining ½ cup (125 ml) tomato sauce, breadcrumbs and 1 ounce (28 g) grated blend cheese and 1 ounce (28 g) Parmesan cheese. Use torch or broiler to melt and lightly brown cheese. Sever over pasta, as a side vegetable to a main course or slice into pieces to use as filling for eggplant Parmesan sandwiches.