Sous Vide Duck Rillettes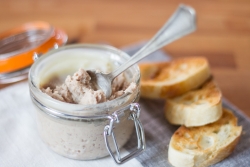 Rillettes, by definition, are meat slowly cooked in seasoned fat and then made into a paste with the excess fat. These duck rillettes, made by using the Anova Sous Vide Precision Cooker, are perfect on toast with pickled onions or cornichon. The process takes some time, but it's worth the wait. The duck rillettes will keep in the fridge, within an air-tight container, for up to two weeks.
Author
Emily Farris and Jeff Akin
Emily Farris and Jeff Akin are the co-founders of Feed Me Creative, a former culinary creative agency in Kansas City, MO.
Prep Time: 25:00
Recipe Time: 12:00
Temperature : 170F / 76.7C
Ingredients
2 duck legs
3 sprigs fresh thyme
1 tablespoon kosher salt
1 tablespoon whole black peppercorns
1/2 cup duck fat
2 dried bay leaves
2 tablespoons cognac
Directions
Rub the duck with the thyme, salt, and peppercorns. Cover and refrigerate for 24 hours.
Set the Anova Sous Vide Precision Cooker to 170°F (76°C).
Remove the duck from the refrigerator, rinse, and pat dry with paper towels. Place in a large zipper lock or vacuum seal bag with the duck fat and bay leaves. Seal using the water immersion technique or a vacuum sealer on the moist setting.
Place the bag in the water bath and set the timer for 12 hours. Cover the water bath with plastic wrap to minimize water evaporation. Add water intermittently to keep the duck submerged.
Finishing Steps
When the timer goes off, remove the bag from the water bath. Transfer to an ice bath and chill for at least 30 minutes.
Remove the cooled duck from the bag. Separate the fat from the jellied cooking liquid. Reserve.
Using two forks, remove the meat from the bones and shred into small pieces. Transfer to a large bowl.
Add 1/4 cup jellied cooking liquid and 1/4 cup duck fat from the bag. Beat mixture with a wooden spoon until mixture is spreadable. (Alternatively, place duck meat, cooking liquid, and fat in a stand mixer and beat using the paddle attachment.)
Mix in the cognac. Season to taste with the cognac, fat, or jellied cooking liquid. (Note: You shouldn't need to add additional salt. The cooking liquid will provide plenty of seasoning.)
Transfer rillettes to a jar and store in the refrigerator for up to two weeks.