Sous Vide Curried Winter Squash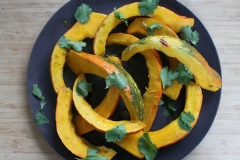 Winter squash is one of my staple ingredients in the fall. It's hearty, resilient, and takes on many different flavors. One of my current favorites is to cook squash with Thai curry paste: it adds punchy heat, aroma, and a little je ne sais quoi. Cooking the squash slowly in the precision cooker allows the squash to take on a creamy texture while still maintaining its shape.
Author
Kate Williams
Kate is a freelance food writer and editor living in Berkeley, CA. Before moving to the Bay Area, Kate spent two years working as a test cook at America's Test Kitchen, and has contributed to Serious Eats, The Oxford American, KQED and The Hypocrite Reader, among others. She's currently the editor of Berkeleyside NOSH.
Prep Time: 00:20
Recipe Time: 01:30
Temperature : 185F / 85C
Ingredients
1 medium winter squash, such as kabocha, acorn, red kuri, or sugar pumpkin (about 3 1/4 pounds)
2 tablespoons unsalted butter
1 to 2 tablespoons Thai curry paste (any flavor), to taste
1/2 teaspoon kosher salt
Fresh cilantro, for serving
Lime wedges, for serving
Directions
Set the Anova Sous Vide Precision Cooker to 185ºF (85ºC).
Slice the squash in half lengthwise and use a large spoon to scoop out the seeds and inner membrane. Save the seeds to roast for a snack, if desired.
Slice each squash half into wedges about 1 1/2 inches thick.
Combine squash wedges, butter, curry paste, and salt in a large zipper lock or vacuum seal bag. Seal the bag using the water immersion technique or a vacuum sealer on the dry setting.
Place the bag in the water bath and set the timer for 1 1/2 hours. If using a zipper lock bag, you may need to weigh down the bag to keep the squash submerged.
Finishing Steps
When the timer goes off, remove the squash from the water bath. Give the squash a gentle squeeze to see if it is fully softened. If not, return the squash to the water bath for 30 additional minutes. (Cook time will depend on the density of the squash.)
Transfer squash to a serving platter. Drizzle with the curry-butter sauce in the bag. Top squash with cilantro and a squeeze of lime, if desired. Serve.