Sous Vide Creamed Sweet Peas with Shallot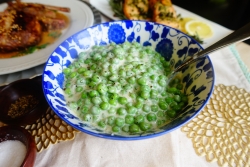 All we are sayyyyy-ing, is give (these) peas a chance! But really, these rich and creamy sweet peas are dangerously tasty while being comforting and evocative of holidays with Grandma.
Author
Nicole Poirier
Chef Nicole is our Content Development Chef at Anova Culinary, devoted to help making your sous vide recipe dreams come true and writing informative blog posts to aid you along the way. She attended culinary school at Ecole Ritz-Escoffier at the Ritz Hotel in Paris, France and worked as a restaurant chef in Rhode Island before becoming an award-winning international yacht chef. Chef Nicole has worked alongside Anova Culinary since our Kickstarter in 2014 and officially joined the team in November, 2016. She has a specialty private event and catering business and and enjoys teaching cooking to clients throughout the Bay Area.
Prep Time: 00:05
Recipe Time: 01:00
Temperature : 185F / 85C
Ingredients
1 lb/~450 g frozen or fresh sweet peas
1 cup heavy/single cream
1/4 c/~60g butter
1 Tablespoon cornstarch
1/4 teaspoon ground nutmeg
4 cloves
2 bay leaves
Cracked black pepper for garnish
Directions
Set your Anova Precision Cooker to 185ºF/85ºC
In a small bowl, mix the cream, cornstarch, and nutmeg and whisk with a fork until the cornstarch is dissolved
Combine all of the ingredients in a zipper-locking bag or silicone pouch. We placed the cloves and bay leaves into a small spice sack to infuse without the worry of fishing them out later
Use the immersion method to release as much air from the bag as possible and seal
Submerge in the bath and set the timer for 1 hour, weighing down if necessary
Finishing Steps
Remove from the bath, transfer to a serving dish and stir. Garnish with cracked black pepper and enjoy!