Sous Vide Cornbread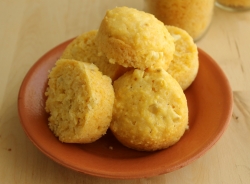 Cornbread is my jam. I love it more than any other carb-tastic side dish. And the best time to make it is right now -- it's peak corn season, so you can toss fresh kernels into the batter for a burst of sweet, corny goodness. Plus, cornbread makes a perfect addition to a Labor Day cookout. (Or any cookout, for that matter.) Precision cooking this simple, one-bowl cornbread makes it easy to avoid turning on the oven (just say no to extra heat), and it keeps the final result moist, tender, and delicious. This recipe doubles easily; use 8 jars.
Author
Kate Williams
Kate is a freelance food writer and editor living in Berkeley, CA. Before moving to the Bay Area, Kate spent two years working as a test cook at America's Test Kitchen, and has contributed to Serious Eats, The Oxford American, KQED and The Hypocrite Reader, among others. She's currently the editor of Berkeleyside NOSH.
Prep Time: 00:15
Recipe Time: 03:00
Temperature : 195F / 90.6C
Ingredients
1/2 cup (70 grams) coarse-ground cornmeal
1/2 cup (60 grams) all-purpose flour
1 tablespoon (15 grams) granulated sugar
1 teaspoon (5 grams) baking powder
Pinch of salt
1/8 teaspoon (.6 mL) baking soda
1/2 cup (118 mL) sour cream
1 large egg
2 tablespoons (30 grams) unsalted butter, melted
1/2 cup (85 grams) fresh corn kernels (from 1 medium ear)
Directions
Set the Anova Sous Vide Precision Cooker to 195ºF (90.5ºC). Generously grease 4 half-pint canning jars with non-stick oil spray or butter.
In a large bowl, whisk together cornmeal, flour, sugar, baking powder, salt, and baking soda.
In a small bowl or measuring cup, whisk together sour cream and egg.
Pour sour cream mixture and melted butter into cornmeal mixture. Whisk to combine. Fold in corn kernels.
Divide the batter between the prepared jars. Each jar should be no more than half full. Wipe off sides and tops of jars using a damp towel. Firmly tap jars on the counter to remove air bubbles. Place lids and bands on jars and seal until just tight (do not over-tighten jars; air will still need to escape).
Place the jars in the water bath and set the timer for 3 hours.
Finishing Steps
When the timer goes off, remove the jars from the water bath and transfer to a cooling rack. Carefully remove the lids. Let the cornbread cool for 10 minutes before running a knife around the sides of the jars to un-mold the loaves. Slice each loaf into two or three pieces. Serve.