Sous Vide Coconut Milk Kheer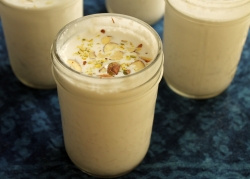 Chilled Indian rice pudding (or kheer) is a killer summer dessert, and it is made even better in the Anova Precision Cooker-- plus you'll never need to heat up the stove! Kheer is typically made with cow's milk, but I like to make my pudding dairy-free with sweet and rich coconut milk. A dash of freshly ground cardamom takes the recipe over the top.
Author
Kate Itrich-Williams
Prep Time: 04:30
Recipe Time: 03:00
Temperature : 180F / 82.2C
Ingredients
5 heaping tablespoons (25 mL) basmati rice
2 (14-ounce) cans full-fat coconut milk
1 cup (237 mL) water
3 tablespoons (15 mL) granulated sugar
Pinch kosher salt
10 green cardamom pods, lightly crushed
Chopped shelled pistachios, for serving
Slivered almonds, for serving
Rose water, for serving (optional)
Directions
Set the Anova Sous Vide Precision Cooker to 180ºF (82.2ºC).
Divide rice evenly between 5 half-pint canning jars.
In a large bowl, whisk together coconut milk, water, sugar, and salt. Divide between the 5 jars. Add 2 cardamom pods to each jar. Place lids and bands on jars and seal until just tight (do not over-tighten jars; air will still need to escape).
Place the jars in the water bath and set the timer for 3 hours.
Finishing Steps
When the timer goes off, remove the jars from the water bath and transfer to a cooling rack. Carefully remove the lids. Stir the pudding to redistribute rice.
Let the pudding cool to room temperature before re-sealing the jars and transferring to the refrigerator. Chill for 4 hours.
Once thoroughly chilled, remove the lids and stir the pudding. Top each pudding with pistachios, almonds, and a few drops of rose water (if desired). Serve.