Sous Vide Cinnamon Mocha Pots de Creme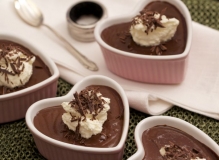 I have been really excited about the idea of cooking custard and egg based desserts using the Anova precision cooker because these kind of dishes can be a bit tricky, whether you are cooking them on a stove top or in a water bath in the oven. Using the sous vide method takes all of the guess work out and creates a beautifully cooked and consistent product. It turns a sometimes tricky dessert into an incredibly easy gourmet treat! This past week I decided to make a Sous Vide Cinnamon Mocha Pot de Creme in a effort to expand my repertoire of awesome sous vide desserts and I was thrilled with the results. Pots de creme are a lovely French dessert normally baked in a water bath in a low oven. As you can guess the translation is "pots of cream." Yum! I started out with the idea of making a chocolate version because I had just gotten my hands on some really great Finnish dark chocolate but as I tasted the base it seemed to be calling for something. Scandinavians love their coffee so it seemed like the natural choice to add that in and a hint of cinnamon really brought the whole thing together. Yum! Yum! Or "Nom! Nom!" as we say over here :-)
Author
Ronna O'Toole
Prep Time: 02:30
Recipe Time: 00:30
Temperature : 179.6F / 82C
Ingredients
3/4 cup heavy cream
3/4 cup whole milk
2 tablespoons ground coffee or espresso beans
1/2 teaspoon ground cinnamon
6 ounces high-quality dark chocolate, chopped, or chocolate chips
6 large egg yolks
1/3 cup granulated sugar
1/4 teaspoon fine sea salt
Freshly whipped cream, for serving (optional)
Chocolate shavings, for serving (optional)
Directions
Set the Anova Sous Vide Precision Cooker to 179ºF (82ºC).
In a medium saucepan, heat the cream, milk, ground coffee, and cinnamon to a boil over medium-high heat. Immediately remove from the heat and stir in chopped chocolate.
Continue to stir until chocolate is melted and smooth. Let steep for 20 minutes. Pour cream mixture through a fine mesh strainer to remove coffee grounds.
In a medium bowl, whisk together the egg yolks, sugar, and salt. While whisking constantly, slowly drizzle 1/4 cup cream mixture into the yolks. Once warm cream is fully incorporated, continue to whisk in remaining cream.
Pour egg and cream mixture into a large zipper lock bag. Seal the bag using the water immersion technique. Place in the water bath and set the timer for 30 minutes.
Finishing Steps
When the timer goes off, remove the bag from the water bath. Pat dry. Cut off one of the bottom corners of the bag. Squeeze the warm pot de creme base into a large bowl and whisk until smooth.
Spoon the pot de creme base into six ramekins. Tap the ramekins a few times on the counter to smooth the tops. Transfer to the refrigerator and chill for 2 hours.
To serve, garnish pots de creme with whipped cream and chocolate servings, if desired