Sous Vide Chinese Green Beans in Black Bean Sauce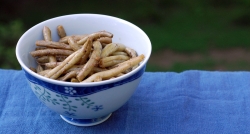 This is my go-to Chinese side dish. It's a perfect way to use up all the extra green beans in your CSA or garden. Best of all you can cook a few recipes in your sous vide at one time, so you can create a feast!
Author
Kathy Hester
The author of 5 cookbooks and the the blogger behind Healthy Slow Cooking. Kathy likes to show just how easy it is to make craft cocktails and healthy food.
Prep Time: 00:25
Recipe Time: 01:20
Temperature : 185F / 85C
Ingredients
4 cups (440 g) halved green beans
3 cloves garlic, minced
2 teaspoons (10 mL) rice wine vinegar
1 1/2 tablespoon (22 mL) prepared black bean sauce
1 tablespoon (15 mL) mild oil
Directions
Set the Anova Precision Cooker to 185ºF (85ºC).
Toss all the ingredients in a large mixing bowl, until the green beans are evenly coated. Add to a plastic zip-seal bag and close. Put the bag into the sous vide and cook 1 1/2 hours.
Finishing Step