Sous Vide Chili Garlic Shrimp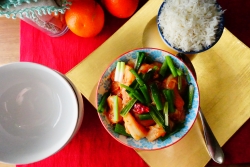 These quick 'n delicious shrimp are the perfect combination of sweet, spicy, and saucy with a bright punch of green onion. We reduced the amount of sugar used in more traditional recipes, as well, and also included Paleo and low-carb alternatives in the recipe to appeal to as many as possible. Served alongside simple steamed rice, this recipe is bound to make it into your way-better-healthier-and-easier-than-take-out rotation!
Author
Nicole Poirier
Chef Nicole is our Content Development Chef at Anova Culinary, devoted to help making your sous vide recipe dreams come true and writing informative blog posts to aid you along the way. She attended culinary school at Ecole Ritz-Escoffier at the Ritz Hotel in Paris, France and worked as a restaurant chef in Rhode Island before becoming an award-winning international yacht chef. Chef Nicole has worked alongside Anova Culinary since our Kickstarter in 2014 and officially joined the team in November, 2016. She has a specialty private event and catering business and and enjoys teaching cooking to clients throughout the Bay Area.
Prep Time: 00:10
Recipe Time: 00:30
Temperature Options:
Tender and succulent

135F / 57.2C
Ingredients
1.5 lb/675 g shrimp
3 dried red chilies
6 garlic cloves, smashed with the side of a knife
1
2 Tablespoons Mirin/rice wine
1 Tablespoon soy sauce/tamari/coconut aminos
2 teaspoons granulated sugar/coconut palm sugar/xylitol
1/2 teaspoon xanthan gum/cornstarch/arrowroot starch (for thickening)
3 green onions
Directions
Set your Anova Precision Cooker to 135ºF/57.2ºC
Combine chilies, garlic cloves, ginger, rice wine, soy sauce, sugar, and thickener in a small bowl and stir well to mix thoroughly. You want the sugar and thickener to be mostly dissolved.
Peel shrimp if necessary and place in bag.
Add the marinade and using the immersion method, release as much air as possible from the bag. Agitate ingredients so that it is well mixed.
Place the bag in the water bath and set the timer for 30 minutes.
Finishing Steps
Chop green onions into 1"/2.5cm pieces. On the stovetop, with a teaspoon of oil over high heat, stir fry the pieces for 20 seconds with a pinch of salt to soften.
Pour the finished shrimp into a serving bowl and top with green onions. Serve with steamed white rice!