Sous Vide Chicken Parmesan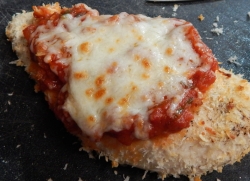 If you're in the mood for some good, hearty food, this is the recipe for you. There is nothing like a delicious chicken parmesan — and this recipe with the Anova Sous Vide Precision Cooker doesn't disappoint.
Author
Mike Castaneda
Christian. Disabled veteran. Father. Named "One of the 10 best cooks in America" by Food Network, World Food Championship Qualified.
Prep Time: 00:20
Recipe Time: 01:30
Temperature : 140F / 60C
Ingredients
2 (12-ounce) boneless, skinless chicken breasts
Salt and freshly ground black pepper
1/4 cup all-purpose flour
1 large egg
1/3 cup panko bread crumbs
2 tablespoons grated Parmesan cheese
1/4 cup marinara sauce
1/2 cup shredded mozzarella cheese
Cooked pasta or warm bread, for serving
Directions
Set the Anova Sous Vide Precision Cooker to 140ºF (60ºC).
Season the chicken with salt and pepper and place in a large zipper lock or vacuum seal bag. Seal the bag using the water immersion technique or a vacuum sealer on the dry setting. Place in the water bath and set the timer for 1 1/2 hours.
About 5 minutes before the chicken is finished, prepare the dredging mixtures: Place the flour in a shallow bowl and season with salt and pepper. Crack the egg into a second shallow bowl and beat until well-combined. In a third shallow bowl, combine the panko and the Parmesan cheese.
Heat the broiler to high. Line a broiler-safe baking sheet with aluminum foil.
Finishing Steps
When the timer goes off, remove the bag from the water bath. Remove the chicken from the bag and pat dry with paper towels.
Place the chicken in the bowl with the flour and toss to coat. Dip the chicken into the bowl with the egg, and then transfer to the panko. Toss to evenly coat.
Transfer the chicken to prepared baking sheet. Broil until golden brown, 2 to 5 minutes.
Top chicken with marinara sauce and then mozzarella. Broil until cheese is melted and browned, 1 to 3 minutes. Serve over pasta or with bread.