Sous Vide Chicken Breasts with Lemon, Garlic and Rosemary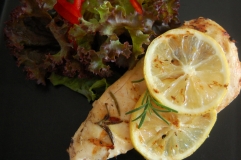 This dish always pleases family and guests alike. For me it is a bit of a "go-to" meal, since I almost always have the key ingredients — the only ingredients — on hand in the house. Finishing on the grill gives it an extra layer of flavor. The brief brine before cooking is worth it, keeping the chicken breasts moist and flavorful.
Author
Barbara Freda
I grew up in a cooking family and after getting a degree in Spanish and Anthropology, realized what I really wanted to do was to go to culinary school. After working in a NYC bank for a few years, I managed to get to culinary school and got my first jobs in NYC kitchens, including a long stint at Union Square Cafe in its earliest years. After (sadly) leaving NYC, I realized I needed to step away from the 80-hour work weeks, so I left the heat of the kitchen for the cool of the computer keyboard: I started writing about food, the business of food, and technology in the food industry, as well as teaching cooking classes. Recipe development remains one of my top loves, and the opportunity to develop recipes for Anova has been fun every step of the way.
Prep Time: 01:15
Recipe Time: 01:30
Temperature : 146.3F / 63.5C
Ingredients
1 cup water
2 tablespoons plus 1/2 teaspoon kosher salt
1 tablespoon granulated sugar
1 pound boneless, skinless chicken breasts
2 cloves garlic, minced
1 lemon, thinly sliced
Freshly ground black pepper
3 or 4 large springs fresh rosemary, leaves stripped
1 tablespoon extra virgin olive oil
Directions
Combine water, 2 tablespoons salt, and sugar in a large bowl. Whisk until sugar and salt are dissolved. Add the chicken, cover, and refrigerate for 45 minutes.
Meanwhile, set the Anova Sous Vide Precision Cooker to 146ºF (63.5ºC).
Drain and rinse the chicken breasts. Pat dry with paper towels.
Mash the garlic with remaining 1/2 teaspoon salt to make a paste. Spread paste over chicken breasts and top with lemon slices. Season with pepper.
Place the chicken in a large zipper lock bag with the rosemary and olive oil. Seal the bag using the water immersion technique and place in the water bath. Set the timer for 1 1/2 hours.
Finishing Steps
About 10 minutes before the chicken is finished, heat grill to high. Make sure grill grates are clean.
When the timer goes off, remove the bag from the water bath. Remove the chicken from the bag. Carefully place lemon slices on the grill, followed by the chicken. Grill lemon and chicken until well-browned on both sides, 3 to 5 minutes.
Serve chicken with lemon slices.