Sous Vide Chicken Breast With Smoked Paprika Spice Rub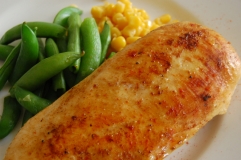 This simple recipe came about when I was in a rush one day, looking for maximum flavor and minimum fuss. The end result was dubbed the "best chicken ever" by one of my taste testers. I don't know about that, but I do know this is a nice recipe to have in my back pocket for nights I don't want to think much about what's for dinner. The brief brine of the chicken breasts makes enough of a difference that I think it is worth it to think just a little bit ahead on this one (45 minutes ahead, to be precise).
Author
Barbara Freda
I grew up in a cooking family and after getting a degree in Spanish and Anthropology, realized what I really wanted to do was to go to culinary school. After working in a NYC bank for a few years, I managed to get to culinary school and got my first jobs in NYC kitchens, including a long stint at Union Square Cafe in its earliest years. After (sadly) leaving NYC, I realized I needed to step away from the 80-hour work weeks, so I left the heat of the kitchen for the cool of the computer keyboard: I started writing about food, the business of food, and technology in the food industry, as well as teaching cooking classes. Recipe development remains one of my top loves, and the opportunity to develop recipes for Anova has been fun every step of the way.
Prep Time: 01:15
Recipe Time: 01:30
Temperature : 146.3F / 63.5C
Ingredients
1 cup water
2 tablespoons kosher salt
1 tablespoon plus 1/4 teaspoon granulated sugar
1 pound boneless, skinless chickens breasts
4 teaspoons unsalted butter, softened
1/2 teaspoon lemon pepper
1/2 teaspoon celery salt
1/4 teaspoon smoked paprika
1/4 teaspoon garlic powder
Pinch cardamom
1 1/2 teaspoons extra virgin olive oil
Directions
Combine water, salt, and sugar in a large bowl. Whisk until salt and sugar are dissolved. Add the chicken, cover, and refrigerate for 45 minutes.
Meanwhile, set the Anova Sous Vide Precision Cooker to 146ºF (63.5ºC).
In a small bowl, combine 2 teaspoons butter, lemon pepper, celery salt, smoked paprika, garlic powder, remaining 1/4 teaspoon sugar, and cardamom. Using a fork, mash spices into butter and mix until well combined.
Remove chicken breasts from brine, rinse, and pat dry with paper towels. Coat with butter mixture. Transfer to a large zipper lock bag. Seal the bag using the water immersion technique.
Place the bag with in the water bath and set the timer for 1 1/2 hours.
Finishing Steps
When the timer goes off, remove the bag from the water bath. Remove the chicken from the bag. Discard cooking liquid.
Heat olive oil and remaining 2 teaspoons butter in a large skillet. When the butter stops foaming, add the chicken and sear until golden brown on each side, 3 to 5 minutes total.
Let rest for 5 minutes and serve.