Sous Vide Chicken Adobo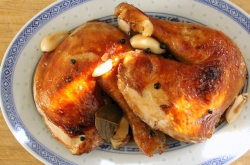 Chicken adobo is a staple recipe in my house. It is a dead simple dish: soy sauce, vinegar, garlic, pepper, and bay leaves build a finger-licking sauce for braised chicken thighs and drumsticks. Preparing the dish in a precision cooker instead of in a braising pot ensures perfectly tender meat that is completely infused with the savory sauce. A quick stint under the broiler gets the skin fabulously crisp and undeniably delicious.
Author
Kate Williams
Kate is a freelance food writer and editor living in Berkeley, CA. Before moving to the Bay Area, Kate spent two years working as a test cook at America's Test Kitchen, and has contributed to Serious Eats, The Oxford American, KQED and The Hypocrite Reader, among others. She's currently the editor of Berkeleyside NOSH.
Prep Time: 00:15
Recipe Time: 04:00
Temperature : 160F / 71.1C
Ingredients
2 whole chicken legs (leg and thigh attached)
1/4 cup cane vinegar or apple cider vinegar
2 tablespoons soy sauce
4–5 cloves garlic, smashed
1/4 teaspoon whole black peppercorns
1 bay leaf
Directions
Set the Anova Sous Vide Precision Cooker to 160ºF (71.1ºC).
Combine all ingredients in a large zipper lock or vacuum seal bag. Seal the bag using the water immersion technique or a vacuum sealer on the moist setting.
Place the bag in the water bath and set the timer for 4 hours, or up to 8 hours.
About 5 minutes before the chicken is finished, heat broiler to high. Line a broiler-safe baking sheet with aluminum foil.
Finishing Steps
When the timer goes off, remove the bag from the water bath. Remove the chicken legs from the bag. Reserve accumulated liquid in the bag. Thoroughly pat chicken dry and place on prepared baking sheet.
Broil chicken legs until skin is well browned, 3 to 6 minutes.
Meanwhile, transfer juices in bag to a small saucepan. Bring to a simmer and cook until mixture has reduced by one-third, about 5 minutes.
Place chicken on serving platter and drizzle with sauce. Serve.