Sous Vide Cheesy Grits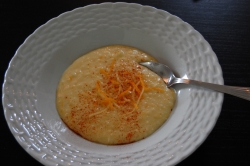 The Anova Precision cooker eliminates the need to stand overa hot stove stirring grits to keep them from getting lumpy. The addition ofcream and cheese make these decadent—great on their own or as the base to yourmain course.
Author
Barbara Freda
I grew up in a cooking family and after getting a degree in Spanish and Anthropology, realized what I really wanted to do was to go to culinary school. After working in a NYC bank for a few years, I managed to get to culinary school and got my first jobs in NYC kitchens, including a long stint at Union Square Cafe in its earliest years. After (sadly) leaving NYC, I realized I needed to step away from the 80-hour work weeks, so I left the heat of the kitchen for the cool of the computer keyboard: I started writing about food, the business of food, and technology in the food industry, as well as teaching cooking classes. Recipe development remains one of my top loves, and the opportunity to develop recipes for Anova has been fun every step of the way.
Prep Time: 00:05
Recipe Time: 03:00
Temperature : 180F / 82.2C
Ingredients
1 cup (178g) grits (old fashioned)
1 cup (250 ml) cream
3 cups (750ml) stock
2 tablespoons (28g) butter
4 ounces (112g) grated cheddar cheese
Paprika and extra cheese for garnish, if desired
Directions
Heat water to 180ºF/82ºC using Anova Precision Cooker.
Place grits into bowl. Whisk cream and stock into grits, making sure there are no lumps. Cut butter into small pieces, add to grits. Pour grits into zip-close plastic bag and seal, using water immersion method to create vacuum.
Place into hot water, laying bag flat on bottom of water container (this helps prevent lumps. If lumps do form, take bag out of water and use your hands to squeeze lumps out of grits without breaking the seal on the bag.) Cook 2 to 3 hours, until most of liquid is absorbed into grits.
Finishing Step: To Serve
When done, pour grits into bowl. Whisk cheese into grits. Taste, adding salt and pepper if needed. Serve grits topped with sprinkling of cheese and paprika, if desired.