Sous Vide Carnitas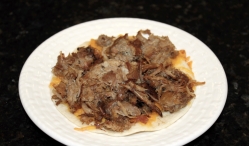 Using this method the pork butt is guaranteed to come out beautifully moist and flavorful and the color will be perfect, not the dull gray color I've seen at the popular restaurants in town serving carnitas. Another little bit about the benefit of sous vide; summertime in Phoenix, Arizona is not the time to be using the oven because it heats up the kitchen. Using the sous vide method of cooking keeps the kitchen cool and you don't lose any flavor. As a matter of fact because the meat cooks for so long it actually picks up more flavor
Author
Becky DeRuiter
Managing editor of bakerbecky.com, Becky does way more than bake! She uses her Anova to whip up top-notch meals night after night with ease.
Prep Time: 00:30
Recipe Time: 20:00
Temperature Options:
Extra meaty, succulent and tender - Moist and tender, shreddable with your hands or forks

175F / 79.4C
Ingredients
6 pound pork shoulder
1 large onion, chopped
2 oranges, juiced
1/3 cup brown sugar
4 slices bacon
3 tablespoons garlic, minced
2 cinnamon sticks
2 bay leaves
2 tablespoons Anise
1 tablespoon kosher or sea salt
Directions
Set Anova Sous Vide Precision Cooker to 175°F / 79.4°C
In small bowl add orange juice, garlic, salt, brown sugar, and Anise.
Place pork in vacuum bag. If necessary, you can split the pork into two pieces and use two bags. Pour orange juice mixture pork.
Add onions, bacon, bay leaves, and cinnamon sticks to bag.
Seal bag. Place in water bath and cook for 20 hours.
Stovetop Finish
When the timer goes off, remove bag from water bath. Strain juice into separate bowl.
Place a heavy-bottomed pan over medium-high heat and add pork to pan while shredding. Sear over medium-high heat until pork is crispy. Add juices from bag to pork as necessary.
Serve in tacos, use in quesadilla, burrito bowls, or however you choose! Options are a-plenty!