Sous Vide Brisket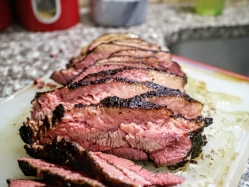 The result here is tender, melt in your mouth brisket. The long cook time and the low temperate result in the juiciest brisket ever. The rub is heavy on the pepper, so it has a nice bite to it, and is totally delicious. Definitely serve this at your next get together if you want to impress! NOTE: To finish in the smoker, add 3 hours to total recipe time. 53 hours total.
Author
Nick Roush
Serving up some of Dallas/Fort Worth's best sous vide eats, Nick Roush is one of our favorite #anovafoodnerds! Constantly cranking out delicious food with the aid of Anova, and sharing his best recipes with all of us!
Prep Time: 00:15
Recipe Time: 50:00
Temperature : 135F / 57.2C
Ingredients
1 brisket, 4-6 pounds
1/3 cup coarsely ground black pepper
1/4 cup kosher salt
1/4 oz pink curing salt (optional)
1/4 teaspoon liquid smoke (optional, if using oven to finish!)
Directions
Set Anova Sous Vide Precision Cooker to 135°F / 57.2°C
Combine salt, pepper, and pink salt. Mix thoroughly. Rub brisket liberally with seasoning.
Place in vacuum bag, add liquid smoke if desired, and drop into pre-heated water bath. Cook for 50 hours.
Finishing Steps
Pre-heat smoker or oven to 225°F / 107°C
After 50 hours, remove brisket from water bath and place in a bowl of ice water for 30 minutes, changing ice once if necessary.
Remove brisket from bag, pat dry, and add additional rub as necessary.
Place in smoker or oven for 3 hours until exterior has nice color
Slice against the grain, and enjoy!