Sous Vide Braised Short Rib Ragu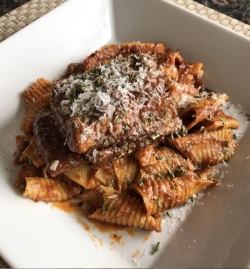 Tender, fall-off-the-bone short ribs are only a day away! The short ribs cook in their own juices, ensuring there is no loss of that rich and beefy flavor. Paired with a red wine tomato sauce, this meal is sure to satisfy even the most hearty of appetites.
Author
Bea Mendoza
Bea Mendoza is an #anovafoodnerd from Las Vegas who loves food, travel, and sous vide. As a nursing student, Bea admits that studying takes up the bulk of her time, and cooking at home can be difficult for her to fit into her routine. With Anova, it's easy for her to get her work done and still enjoy quality, home-cooked meals. She sets up Anova, drops her food in the water bath, and has her dinner going in minutes, giving her time to dives into her studies while her food cooks.
Prep Time: 00:15
Recipe Time: 24:00
Temperature Options:
Traditional braised texture, fall-off-the-bone tender

185F / 85C
Ingredients
4 large bone in short ribs
4 cups of your favorite tomato sauce, homemade or jar
1/2 cup red wine
1 pound of pasta of your choice
freshly grated parmesan cheese
Salt
Pepper
Directions
Set Anova Sous Vide Precision Cooker to 185°F / 85°C
Freeze tomato sauce in a ziplock bag. This will ensure the tomato sauce does not get in the way of the seal when trying to use a vacuum sealer
Season short ribs with salt and pepper
Heat up some oil in a cast iron pan and sear the short ribs when the pan is smoking hot. Sear until golden brown on all sides.
Place the seared short ribs in a vacuum seal bag along with the frozen tomato sauce.
Cook for 24 hours
Stovetop Finish
After 24 hours, take the short ribs out of the bag and set aside.
Pour the tomato sauce in a pot, add red wine (optional) and let it reduce. Just before serving, place the short ribs back into the sauce.
Serve with your favorite pasta topped with grated parmesan cheese!