Sous Vide Blueberry-Lemon Compote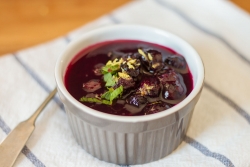 This quick and easy sous vide blueberry-lemon compote is perfect over pound cake, ice cream, or with simple grilled toast points and a soft cheese like ricotta.
Author
Emily Farris and Jeff Akin
Emily Farris and Jeff Akin are Feed Me Creative — a culinary content studio in Kansas City's historic West Bottoms that specializes in recipe development, food styling, and photography. (We're also really good eaters!)
Prep Time: 00:15
Recipe Time: 01:00
Temperature : 180F / 82.2C
Ingredients
1/2 cup ultrafine sugar
1 tablespoon freshly squeezed lemon juice
1 tablespoon lemon zest
1 tablespoon cornstarch
1 pound blueberries
1 tablespoon lemon zest
Directions
Set the Anova Sous Vide Precision Cooker to 180°F (82.2°C).
In a medium bowl, whisk together the sugar, lemon juice, lemon zest, and cornstarch. Add the blueberries and toss to coat.
Transfer blueberry mixture to a large zipper lock bag and seal using the water immersion technique. Place the bag in the water bath and set the timer for 1 hour.
Finishing Steps
When the timer goes off, remove the bag from the water bath. Transfer entire contents of the bag to a serving dish or an airtight container. Serve warm or refrigerate for up to 2 weeks.