Sous Vide Barbecue Beef Tri-tip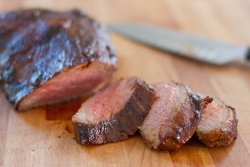 Get perfect barbecue beef tri-tip every time with the Anova Sous Vide Precision Cooker. This sous vide barbecue beef tri-tip is sealed and cooked with barbecue sauce, then broiled with more barbecue sauce, brown sugar, kosher salt, and black pepper so it forms a perfect bark at the end. Yum.
Author
Emily Farris and Jeff Akin
Emily Farris and Jeff Akin are Feed Me Creative — a culinary content studio in Kansas City's historic West Bottoms that specializes in recipe development, food styling, and photography. (We're also really good eaters!)
Prep Time: 00:15
Recipe Time: 06:00
Temperature : 130F / 54.4C
Ingredients
1 (2- to 3-pound) beef tri-tip
2 teaspoons kosher salt
1 teaspoon freshly ground black pepper
1/2 cup barbecue sauce, divided
2 teaspoons light brown sugar
Directions
Set the Anova Sous Vide Precision Cooker to 130°F (54°C).
Season ti-tip with 1 teaspoon salt and 1/2 teaspoon pepper and place in a large zipper lock or vacuum seal bag. Add 1/4 cup barbecue sauce. Seal the bag using the water immersion technique or a vacuum sealer on the moist setting. Place in the water bath and set the timer for 6 hours.
Finishing Steps
When the timer goes off, remove the bag from the water bath. Remove the ti-tip from the bag and pat dry with paper towels. Transfer to a foil-lined broiler-safe baking sheet. Heat broiler to high.
Brush tri-tip with remaining barbecue sauce, and sprinkle with sugar and remaining salt and pepper. Broil until sauce begins to caramelize, about 5 minutes.
Transfer ti-tip to a cutting board and let rest for 10 minutes. Slice and serve.