Sous Vide Balsamic-Braised Cabbage with Currants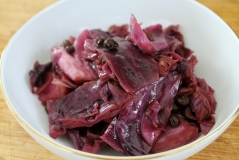 Cabbage may not be the first thing you think of when creating sous vide recipes, but it is the perfect vegetable to prepare in a precision cooker. The long, slow cooking renders the leaves tender, but ensures they are far from water-logged. With flavorful additions, such as balsamic vinegar, this recipe can really pack a punch. I like to complete this dish with a handful of sweet currants, a dab of butter, and slivers of shallots and garlic.
Author
Kate Williams
Kate is a freelance food writer and editor living in Berkeley, CA. Before moving to the Bay Area, Kate spent two years working as a test cook at America's Test Kitchen, and has contributed to Serious Eats, The Oxford American, KQED and The Hypocrite Reader, among others. She's currently the editor of Berkeleyside NOSH.
Prep Time: 00:15
Recipe Time: 02:00
Temperature : 185F / 85C
Ingredients
1 1/2 pounds red cabbage (1 small head or 1/2 large head)
1/4 cup currants
1 shallot, thinly sliced
3 cloves garlic, thinly sliced
1 tablespoon balsamic vinegar
1 tablespoon unsalted butter
1/2 teaspoon kosher salt
Directions
Set the Anova Sous Vide Precision Cooker to 185ºF (85ºC).
Slice the cabbage into quarters and remove core. Chop cabbage into 1 1/2-inch pieces.
Divide cabbage between two large zipper lock or vacuum seal bags. Divide the remaining ingredients evenly between the two bags. Seal the bags using the immersion technique or a vacuum sealer on the moist setting.
Place the bags in the water bath and set the timer for 2 hours. If using the immersion method, you may need to weigh down the bags to keep the cabbage submerged.
Finishing Steps
When the timer goes off, remove the bags from the water bath. Transfer the cabbage and all remaining juices to a serving bowl. Season with additional vinegar and salt to taste, if desired.