Sous Vide Balsamic Beets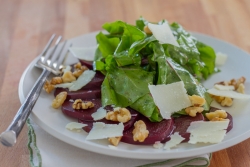 Beets and balsamic vinegar are just made for each other. The sweetness of the beets is a perfect balance for the acidity of the vinegar — which is probably why pickled beets are so popular. This recipe for Sous Vide Balsamic Beets, made using the Anova Sous Vide Precision Cooker, amplifies the perfect pairing and creates an elevated take on the pickled beet. These beets are perfect for salads — especially salads with goat cheese. Enjoy! If your beets don't come with greens, you can substitute 2 to 4 ounces of baby arugula.
Author
Emily Farris and Jeff Akin
Emily Farris and Jeff Akin are the co-founders of Feed Me Creative, a former culinary creative agency in Kansas City, MO.
Prep Time: 00:10
Recipe Time: 01:00
Temperature : 185F / 85C
Ingredients
3 beets with their greens; beets peeled and sliced 1/4-inch thick and greens reserved
1/2 cup balsamic vinegar
Kosher salt and freshly ground black pepper
1 tablespoon extra virgin olive oil
1/2 cup toasted walnuts
1/2 cup shaved Grana Padano cheese
Directions
Set the Anova Sous Vide Precision Cooker to 185°F (85°C).
Combine the beets, vinegar, and 1 teaspoon salt in a large zipper lock or vacuum seal bag. Seal the bag using the water immersion technique or a vacuum sealer on the moist setting. Place in the water bath and set the timer for 1 hour.
Finishing Steps
When the timer goes off, remove the bag from the water bath. Remove the beets from the bag and discard the cooking liquid. Pat the beets dry and arrange on a plate.
Toss the beet greens with olive oil and season with salt and pepper. Place atop the beets.
Sprinkle with walnuts and cheese. Serve.