Sous Vide Bacon-Infused Vodka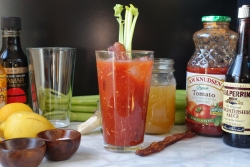 Bacon makes everything better - including vodka! Try this super-flavorful vodka to punch up your favorite vodka drinks, especially your brunch-time Bloody Mary!
Author
Nicole van Zanten
Prep Time: 00:20
Recipe Time: 00:45
Temperature : 150F / 65.6C
Ingredients
2 cups/470ml vodka
8 oz bacon
3 Tbsp reserved bacon grease
Directions
Set your Anova Sous Vide Precision Cooker to 150ºF/65.5ºC
Bake your bacon for 16 minutes at 400ºF/204ºC until crispy. Allow to cool for a few minutes.
Combine all ingredients in a zip-locking bag. Add a stainless steel butter knife to weigh the bag down.
Drop in the bath and sous vide for 45 minutes.
Finishing Steps
Strain the liquid into a bowl or glass measuring cup.
Refrigerate until there is a pretty solid layer of fat on top.
Remove from refrigerator and skim off as much fat as possible. Then, pour through a cheesecloth-lined strainer into a jar for storing. (And pouring!)
Enjoy the bacon-y goodness, and try it in Serious Eats' Ultimate Fully-Loaded Bloody Mary Recipe like we did!