Sous Vide Amaretto Creme Brûlée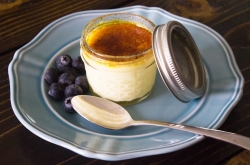 It's silky smooth, sweet, creamy, and has a deliciously crunchy sugar topping. Creme brulee has been served in high end restaurants for ages and for good reason. It feels like you're eating a touch of extravagance in every spoonful that you take. It can be tailored to suit your flavor preference, and is perfect with a hint of liquor added to it.

It used to be a fickle and worrisome task to make it. You'd have to scald your milk, and temper it into the eggs. If you add the milk to quickly to the egg, you curdle the eggs and wind up with sweet scrambled eggs. If you have the oven too high or you cook them too long, you wind up with scrambled eggs…again. So what's the easiest way to do it?
Yeah…I'm going to say it again…sous vide friggin rocks! It makes this annoyingly worrisome and fickle dessert, easy as mixing, pouring, and dropping them in the water bath!
Author
Justin Borecky
Serving up some of PA's finest sous vide eats, Justin and Anova are a match made in heaven. With a penchant for delicious desserts, he makes sure they turn out perfect time after time. Justin manages and runs beyondtherecipes.com where he shares this recipe and more!
Prep Time: 00:30
Recipe Time: 01:00
Temperature : 181F / 82.8C
Ingredients
12 egg yolks
3/4 cup sugar
½ teaspoon salt
2 oz Amaretto
1 qt heavy cream
Sugar to dust on top
Directions
Set Anova Sous Vide Precision Cooker to 181°F / 82.7°C.
Add salt and sugar to egg yolks, whisk to combine.
Add Amaretto liqueur to egg mixture and combine.
Add heavy cream and whisk until combined.
Strain mixture through a fine mesh colander.
Let mixture rest until bubbles have subsided, or use a torch and quickly move across surface until bubbles have subsided.
Fill 4oz/125ml mason jars, leaving about 1/2" of room at the top.
Tighten lids by twisting the lid only as tight as you can with just your fingertips.
Lower into bath with tongs, jars should settle on the bottom. If some float, as long as mixture is below the line you're ok!
Cook for 1 hour.
Finishing Steps
When done cooking, move to fridge for a minimum of two hours to chill and set. They will last several days in the fridge before serving if needed.
Sprinkle sugar over the entire surface and place under a pre-heated broiler or use a kitchen torch until sugar caramelizes and turns brown.
Crack into that glistening glass-like surface and enjoy creamy goodness!