Sous Vide Akaushi (Wagyū) Chuck Eye Steak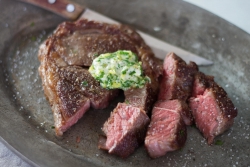 Chuck eye is usually an inexpensive and not very exciting cut of steak, but the akaushi version — from a Wagyū cattle breed — is luxurious like a ribeye. It's marbled with fat and has a fantastic flavor. We keep this tender sous vide steak simple and serve it with compound butter but, honestly, it doesn't really need anything.
Author
Emily Farris and Jeff Akin
Emily Farris and Jeff Akin are Feed Me Creative — a culinary content studio in Kansas City's historic West Bottoms that specializes in recipe development, food styling, and photography. (We're also really good eaters!)
Prep Time: 00:10
Recipe Time: 04:00
Temperature : 130F / 54.4C
Ingredients
1 (16-ounce) akaushi chuck eye steak
Kosher salt and freshly ground black pepper
1 tablespoon extra virgin olive oil
Directions
Set the Anova Sous Vide Precision Cooker to 130°F (54°C).
Place the steak in a large zipper lock or vacuum seal bag. Seal the bag using the water immersion technique or vacuum sealer on the dry setting. Place in the water bath and set the timer for 4 hours.
Finishing Steps
When the timer goes off, remove the bag from the water bath. Remove the steak from the bag, pat dry, and season liberally with salt and pepper. Discard any cooking liquid.
Heat the olive oil in a large skillet over medium-high heat. When the oil is shimmering, add the steak and sear until golden brown on both sides, about 5 minutes total.
Let steak rest for 10 minutes. Slice and serve.