Sous Vide 101: Easy Meyer Lemon and Thyme Infused Olive Oil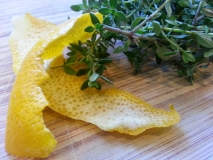 Infusing your own oils will not only save you money but it's a great way to add your own twist to your culinary creations. Flavored oils also make great gifts during the holiday season! I started with a simple Meyer Lemon Thyme infusion both for its versatility and punch of flavor. Combine with a bit of vinegar and you have a delicious vinaigrette, or drizzle a little over cooked steak, seafood or vegetables to brighten the dish. Once strained, this recipe yields about 2 1/4 cups of oil.
Author
sheriwetherell
Food. Drink. Travel. News. Founders of the International Food Blogger Conference (@IFBC) @Foodista
Prep Time: 00:10
Recipe Time: 01:00
Temperature : 131F / 55C
Ingredients
Peel of 1 Meyer lemon
2 1/2 cups extra virgin olive oil
1 large bunch lemon thyme
Directions
Set the Anova Sous Vide Precision Cooker to 131°F (55ºC).
Combine all the ingredients in a large zipper lock bag. Seal the bag using the water immersion technique. Place in the water bath and set the timer for 1 hour.
Finishing Steps
When the timer goes off, remove the bag from the water bath. Strain the entire contents of the bag through a fine-mesh strainer into a clean bottle or jar with a lid. The oil will keep for up to 2 months in the refrigerator.