Simple Sous Vide Pork Chili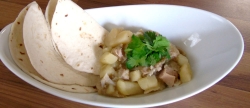 With fall quickly approaching I thought this would be the perfect time to try out some warming recipes for the cooling temperatures. My easy Pork Chili recipe gives you some bold amazing flavors without having to slave behind a stove. With minimal ingredients and effort, this dish is sure to please.
Author
Mike Castaneda
Christian. Disabled veteran. Father. Named "One of the 10 best cooks in America" by Food Network, World Food Championship Qualified.
Prep Time: 08:10
Recipe Time: 12:00
Temperature : 170F / 76.7C
Ingredients
1 (8-ounce) jar green chile salsa
1 (1-pound) boneless pork shoulder chop, sliced into 1-inch pieces
2 small russet potatoes, sliced into 1-inch pieces
1 teaspoon kosher salt
1 teaspoon Knorr chicken bouillon powder
1/8 teaspoon freshly ground black pepper
Chopped fresh cilantro, for serving
Flour or corn tortillas, warmed, for serving
Directions
If you are using a vacuum sealer, pour the salsa into a small zipper lock bag the night before cooking the chili. Freeze until solid, 8 to 10 hours.
Set the Anova Sous Vide Precision Cooker to 170ºF (76ºC).
Season the pork and potatoes with salt, chicken bouillon, and pepper. Mix well. Transfer to a large zipper lock or vacuum seal bag.
Remove the frozen salsa from its bag and add the salsa to the bag with the pork. Seal the bag using the water immersion technique or a vacuum sealer on the moist setting.
Place the bag in the water bath and set the timer for 12 hours. Cover the water bath with plastic wrap to minimize water evaporation. Add water intermittently to keep the pork submerged.
Finishing Steps
When the timer goes off, remove the bag from the water bath. Transfer the entire contents of the bag to a serving bowl. Season to taste with salt and pepper.
Sprinkle chili with cilantro and serve with warmed tortillas.