Sous Vide Riesling Poached Pears with Cardamom Cream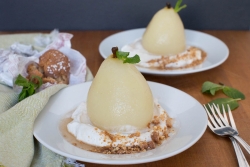 Juicy pears get a luxurious soak in a sweet, floral Riesling mixture until they are super tender. Chill them down and these pears will taste like a refreshing, full-bodied sorbet. Serve them on a cloud of cardamom-spiked whipped cream, and a garnish of crunchy crushed amaretti cookies, and you have the perfect make-ahead, elegant dessert. Make-ahead note: The fruit will hold for 4-5 days, refrigerated in the poaching liquid; it will actually develop deeper flavor this way.
Author
Stephanie Hua
Stephanie is a food writer, photographer, recipe tester & developer based in SF. She received her culinary arts training at the San Francisco Cooking School and is the creator of food blog, Lick My Spoon (a place for all things delicious). Her work has appeared in The Huffington Post, Fodor's Travel, PBS, Serious Eats, SF Weekly, and KQED, among others.
Prep Time: 01:30
Recipe Time: 00:30
Temperature : 176F / 80C
Ingredients
1 (750 mL) bottle Spatlese Riesling
3/4 cup (150 g) granulated sugar
20 green cardamom pods
2 teaspoons vanilla extract or 1 vanilla pod and 1 teaspoon vanilla extract
4 ripe d'anjou pears
1 cup heavy whipping cream
2 tablespoons powdered sugar, or to taste
1/2 teaspoon ground cardamom
2 amaretti cookies
Small mint leaves, for serving
Directions
Set the Anova Sous Vide Precision Cooker to 176ºF (80ºC). Pour the Riesling into a large bowl and whisk in sugar until it dissolves. Smash the cardamom pods with the flat edge of your knife so that they pop open, and add them to the mixture. Add 1 teaspoon vanilla extract or vanilla pod. (If using a vanilla pod, split it lengthwise, scrape the seeds out, and add all of it to the mixture.)
Peel the pears, leaving the stem intact. Using a small melon baller, remove the bottom stem end and continue to scoop up into the pear to remove the core.
With a clean kitchen towel under running water, buff the surface of each pear to give the pears a smooth, even appearance. Submerge the pears in the wine mixture to prevent them from browning as you go.
Transfer pears and Riesling to a large vacuum seal or zipper lock bag. Vacuum seal the bag or leave unsealed, placing the open edge of the bag over the side of the bath and securing it to prevent water from entering.
Set the timer for 30 minutes. At this point, the pears should be soft; you should be able to easily scoop into them with a spoon. If not soft, continue cooking for at least 15 minutes.
When the timer goes off, remove the bag from the water bath. Let the pears cool completely, still in the bag. Transfer to the refrigerator until ready to serve.
Finishing Steps
When ready to serve, pour about half of the poaching liquid into a large saucepan. Bring to a boil over high heat. Let mixture until the liquid is reduced by about 90% to a thickened, syrupy consistency, about 45 minutes. It will turn to a deep golden honey color.
Combine the cream with the powdered sugar, remaining teaspoon vanilla, and ground cardamom in a large, chilled metal bowl. Rapidly whisk to form soft peaks.
To serve, place a spoonful of whipped cream on a plate. Place a pear on top of that cloud of creamy goodness. Crush the amaretti cookies into crumbs and garnish around the edge of whipped cream. Stick a mint leaf into the pear near the stem. Drizzle with reduced Riesling syrup, and wait for the shower of oohs and ahhs.