Sous Vide Ribeye Steak Diane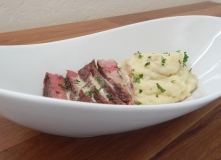 This is a wonderful resurrection of a classic dish. Traditionally, the meats were pretty flat or hammered thin so the cooking time wasn't too long. With the Anova Precision Cooker, I can cook a thick ribeye steak and have it perfectly done when I sear it and make my sauce. This recipe for ribeye steak Diane is so incredibly easy and so packed with flavor. Not only do you have a perfectly cooked ribeye steak to look forward to, but an incredible sauce as well. Enjoy.
Author
Mike Castaneda
Christian. Disabled veteran. Father. Named "One of the 10 best cooks in America" by Food Network, World Food Championship Qualified.
Prep Time: 00:10
Recipe Time: 01:00
Temperature : 135F / 57.2C
Ingredients
2 (8- to 10-ounce) boneless ribeye steaks
Kosher salt and freshly ground black pepper
1 tablespoon unsalted butter
2 tablespoons Cognac
1/4 cup heavy cream
1 teaspoon Dijon mustard
Directions
Set the Anova Sous Vide Precision Cooker to 135ºF (57ºC).
Season the steaks with salt and pepper and place in a large zipper lock or vacuum seal bag. Seal the bag using the immersion technique or a vacuum sealer on the moist setting.
Place the bag in the water bath and set the timer for 1 hour or up to 4 hours.
Finishing Steps
When the timer goes off, remove the bag from the water bath. Remove the steaks from the bag and pat very dry with paper towels.
Melt the butter in a large cast-iron skillet over medium-high heat. When the butter stops foaming, add the steaks and sear until well-browned, 1 to 2 minutes per side. Transfer the steaks to a cutting board and let rest.
Add the Cognac to the pan (being careful for flare-ups) and let simmer for 30 seconds. Add the heavy cream and Dijon and remove the pan from the heat. Whisk to combine and season to taste with salt and pepper.
Slice the steaks and serve with the sauce.