Sous Vide Raspberry Cordial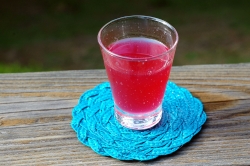 Use some of the juicy, abundant raspberries to make your own summer cordial. Using a sous vide means that you can drink it tonight instead of waiting weeks for it to infuse in your cabinet. The low heat of the sous vide preserves the bright raspberry flavor while reducing the infusion time over the traditional method.
Author
Kathy Hester
The author of 5 cookbooks and the the blogger behind Healthy Slow Cooking. Kathy likes to show just how easy it is to make craft cocktails and healthy food.
Prep Time: 00:15
Recipe Time: 02:00
Temperature : 135F / 57.2C
Ingredients
2 cups (246 g) fresh raspberries
2 cups (400 g) sugar
3 cups (709 ml) vodka
Directions
Set the Anova Sous Vide Precision Cooker to 135ºF (57ºC).
Add the raspberries and sugar to a plastic zip-seal bag and close. Mash the berries into the sugar by squeezing the sealed bag with your hands.
Open the bag and add the vodka. Close again, place in sous vide, and cook for 2 hours.
Finishing Steps
Let cool to room temperature, then strain through a fine mesh strainer into a bowl with a pour spout. Pour into bottles, cover with a lid and store in the refrigerator.