Rack of Lamb with Jalapeño Chimichurri, Green Grapes, and Tahini-Yogurt Sauce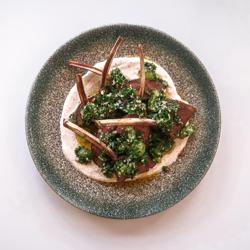 I get it, cooking a whole rack of anything at home can be extremely daunting. Are you overcooking it/undercooking it? Is it smoking out your kitchen? Will it still be moist when you're done cooking it or will it end up being dry? It's a lot of variables to worry about. A way to avoid all the worry and to make it as straightforward and simple as possible is to cook the whole rack sous vide. By cooking the lamb rack sous vide, you can ensure the exact temperature and cook time, while keeping it moist and tender (since it cooks in its own juices). It's a pretty foolproof way if you're not used to cooking racks of lamb whole, and limits your active cooking time by a lot. Set your Precision Cooker, put your lamb in the water, make a few sauces to go with it, and enjoy the rest of your downtime before you finish the lamb quickly in the pan. Cooking Temperature Chart Rare: 115°F (46°C) to 124°F (51°C) Medium Rare: 125°F (52°C) to 134°F (57°C) Medium: 135°F (57°C) to 144°F (62°C) Medium Well: 145°F (63°C) to 154°F (67°C) Well Done: 155°F (68°C) and up ** Note: Cook for 2 1/2 hours max if under 130°F/54°C
Author
Sam Medeiros
Prep Time: 00:30
Recipe Time: 02:00
Temperature : 135F / 57.2C
Ingredients
1 rack of lamb, frenched
Salt and freshly ground black pepper
4 cloves garlic, peeled, divided
2 sprigs fresh rosemary, divided
2 sprigs fresh thyme, divided
¼ cup extra-virgin olive oil, plus more as needed
½ bunch fresh parsley, roughly chopped
1 shallot, finely minced
1 jalapeño, seeded and finely chopped
1 lemon
1 teaspoon dried oregano
¼ cup (25g) quartered green grapes
100mL (6 ½ tablespoons) plain yogurt
30mL (2 tablespoons) tahini
1 teaspoon sumac
1 teaspoon ground cumin
1 teaspoon ground coriander
1 tablespoon unsalted butter
Directions
Attach an Anova Precision Cooker to a vessel of water and heat according to the cooking temperature chart in the description above.
Season the lamb generously with salt and pepper. Wrap the bones with parchment paper and place in a vacuum seal bag with 1 crushed garlic clove, 1 of the rosemary sprigs, and 1 of the thyme sprigs. Seal and place in the water bath. Cook for 2 to 4 hours.
Make the chimichurri: Combine the olive oil, parsley, shallot, jalapeño, 1 clove of minced garlic, the zest of half of the lemon, the juice of half of the lemon, and oregano. Mix and season to taste with salt and pepper. Stir in the grapes and mix thoroughly. Stir in additional olive oil and lemon juice to taste.
Make the tahini-yogurt sauce: Combine the yogurt, tahini, the juice of the remaining half lemon, sumac, and 1 clove of finely grated garlic in a medium bowl. Stir well and season to taste with salt. Add water to thin the sauce if needed.
Finishing Steps
Once the lamb is cooked, remove from the bag and pat completely dry. Sprinkle with the cumin, coriander, and more salt and pepper.
Heat a heavy-bottomed pan over medium-high heat. Add the neutral oil, swirl the pan, and then add in the lamb. Sear until golden brown on all sides. Once you've flipped to the final side, add the butter, remaining rosemary, remaining thyme, and remaining garlic. As the butter melts, baste the lamb with the hot fat until the top side of the rack is nicely browned.
Transfer to a cutting board and carve between the bones. Serve the lamb chops on top of the tahini-yogurt sauce, dressed with the chimichurri and grapes.