Sous Vide Perfect Medium Mushroom Swiss Burger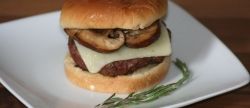 There isn't much in this world that is better than a good burger but most everyone's perception of a burger is formed by their local fast food chain. We aim to fix that. When you go out for a good steak, you don't want a steak that has been cooked down so much that it's gray and dry. You want something that is pink and moist with a fantastic crust surrounding it. With Anova, you have the power to cook a burger to your specific liking. In this recipe, we'll be preparing a perfect medium mushroom swiss burger. Note: If you're not familiar with the water submersion seal method, place your burgers into a zip top bag, seal the bag almost all the way but leave around 1 inch unsealed so air can escape. Start dipping the bag into water so the water can push most of the air out of the bag as you lower it. Once you get as much of the air out as you can while leaving the opened portion of the zip top bag out of the water to prevent water leaking into your food, finish zipping the final inch, sealing the bag.
Author
Mike Castaneda
Christian. Disabled veteran. Father. Named "One of the 10 best cooks in America" by Food Network, World Food Championship Qualified.
Prep Time: 00:10
Recipe Time: 01:00
Temperature : 140F / 60C
Ingredients
1 pound 90% lean ground beef
Salt and freshly ground black pepper
2 sprigs rosemary
1 tablespoon unsalted butter
4 slices Swiss cheese
1 cup sliced button or cremini mushrooms
4 hamburger buns
Directions
Set the Anova Sous Vide Precision Cooker to 140ºF (60ºC).
Divide the ground beef into four 4-ounce portions. Shape each portion into a hamburger patty and season liberally with salt and pepper. Top each burger with 1/4 sprig of rosemary.
Place each patty in its own medium zipper lock bag. Seal the bags using the water immersion technique. Place in the water bath and set the timer for 1 hour.
Finishing Steps
When the timer goes off, remove the bags from the water bath. Gently remove the burgers from the bags and pat dry with paper towels.
Melt butter with remaining rosemary sprig in a large skillet over medium-high heat. When the butter stops foaming, add the burgers and sear until well browned, about 1 minute per side. Transfer to a plate, top with Swiss cheese, and let rest for 5 minutes.
Remove the rosemary from the skillet and add the mushrooms. Sauté over medium-high heat until softened, about 5 minutes. Season to taste with salt and pepper.
Place burgers on buns and top with mushrooms. Serve.