Perfect Guilt-Free Eggs 'Benedict'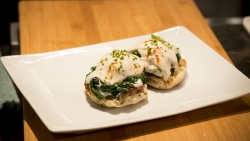 I love Eggs Benedict, but traditional hollandaise sauce recipes are not quite in sync with today's health-conscious diets. This recipe packs in much of the same flavors while also adding the nutritious benefits of tofu.
Author
Ming Tsai
Ming is a James Beard and Emmy Award winning chef, author, TV host and producer, allergy advocate and East-West lifestyle expert. Ming not only cooks East-West but also lives East-West. Just as his food is all about finding balance and harmony, Ming strives to do that in his daily life.
Prep Time: 00:20
Recipe Time: 01:00
Temperature : 147F / 63.9C
Ingredients
4 large eggs
1/4 cup minced shallots
1/4 cup naturally brewed rice vinegar
Juice of half a lemon
Kosher salt and freshly ground black pepper
8 ounces silken tofu
1/4 cup plus 2 teaspoons grapeseed (or canola) oil
2 plain English muffins, split
4 cups spinach, stems removed
4 slices Canadian bacon, ¼ inch thick
2 tablespoons chopped chives
Pinch cayenne pepper
Directions
Set the Anova Sous Vide Precision Cooker to 147ºF (63ºC).
Using a slotted spoon, gently place the eggs in the water, being sure to not break the shells. Set the timer for 1 hour.
When there are about 15 minutes left on the timer, prepare the remaining ingredients. To make the hollandaise, combine the shallots, rice vinegar, and lemon juice in a medium skillet. Bring the heat to medium-high and cook until the liquid is almost completely reduced. Season with salt and pepper.
Transfer the shallot mixer to a blender and add the tofu. Blend until smooth. While the blender is running, drizzle in 1/4 cup grapes oil in a thin stream until emulsified. Season to taste with salt and pepper. Keep warm.
Place the English muffins in the toaster. Heat the remaining 2 teaspoons grapeseed oil in the medium skillet over medium heat. When the oil is shimmering, add the spinach and sauté until wilted, 2 to 3 minutes. Remove it to a plate and keep warm.
In the same skillet over medium heat, sear the Canadian bacon until golden on both sides, 1 to 2 minutes.
Finishing Steps
When the timer goes off, remove the eggs from the water bath using a slotted spoon. Assemble the Benedict by placing one piece of Canadian bacon on each English muffin half. Top with spinach. Using a pairing knife, carefully crack the eggs over the spinach. Season with salt and pepper. Spoon hollandaise over eggs and sprinkle with cayenne and chives. Serve.