Perfect Double-Cut Rosemary Infused Pork Chop with Hard Cider Caramel Sauce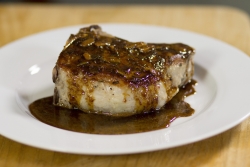 Sous vide will change the way you eat pork. This is a simple pork chop dish that you can easily master.
Author
Nicole Poirier
Chef Nicole is our Content Development Chef at Anova Culinary, devoted to help making your sous vide recipe dreams come true and writing informative blog posts to aid you along the way. She attended culinary school at Ecole Ritz-Escoffier at the Ritz Hotel in Paris, France and worked as a restaurant chef in Rhode Island before becoming an award-winning international yacht chef. Chef Nicole has worked alongside Anova Culinary since our Kickstarter in 2014 and officially joined the team in November, 2016. She has a specialty private event and catering business and and enjoys teaching cooking to clients throughout the Bay Area.
Prep Time: 00:25
Recipe Time: 00:45
Temperature : 140F / 60C
Ingredients
1 (1-pound) bone-in, double-cut pork chop
Kosher salt and freshly ground black pepper
1 sprig rosemary, chopped
1 clove garlic, chopped
1 cup hard cider, divided
1 tablespoon vegetable oil
1 tablespoon dark brown sugar
Sautéed cabbage, for serving
Sautéed apples, for serving
Directions
Set the Anova Sous Vide Precision Cooker to 140ºF (60ºC).
Generously season the pork chop with salt and pepper.
Rub seasoned pork chop with rosemary and garlic.
Place pork chop in a large zipper lock bag and add 1/2 cup hard cider. Seal the bag using the water immersion technique.
Place the bag in the water bath and set the timer for 45 minutes, or up to 2 hours.
Finishing Steps
When the timer goes off, remove the bag from the water bath. Remove the pork chop from the bag and pat very dry with paper towels, reserving the juices in the bag. Heat a cast iron skillet over medium-high heat for 2 minutes.
After 2 minutes, test the pan's heat by flicking water droplets on the pan. They should evaporate immediately.
Add vegetable oil to the skillet and swirl to coat.
Place the pork chop in the skillet and sear until golden brown, about 30 to 45 seconds per side. Transfer the pork chop to a serving plate and let rest for 5 minutes.
To make the sauce, pour the cooking juices from the bag into the skillet.
Add remaining 1/2 cup hard cider and sugar. Stir to dissolve sugar and bring to a rapid simmer.
Continue to simmer until sauce is thickened, about 1 minute.
Pour sauce over pork chop and serve with a side of sautéed cabbage and apples.