Sous Vide Old School Spaghetti And Meatballs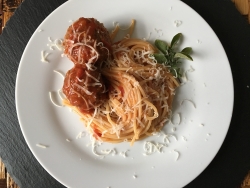 Enjoy a great Italian deli red sauce with meatballs with this easy to execute recipe that cooks the meatballs and sauce all in the same bag -- ensuring all the flavors meld like they've been simmering all day.
Author
Zach Johnston
A self-described traveler, drinker, eater, writer, photographer, and adventurer, Zach knows when good food is on the horizon he'll turn to his Anova Sous Vide Precision Cooker to ensure it's perfectly done time after time.
Prep Time: 00:40
Recipe Time: 02:00
Temperature : 140F / 60C
Ingredients
1 lb. Ground Pork
1 lb. Ground Beef
1 Egg
1/2 cup Oatmeal
1 medium Yellow Onion
2 Cloves of Garlic
2 Sprigs of Fresh Oregano
1 can San Marzano Stewed Tomatoes
Olive Oil
Salt & Pepper
Spaghetti
Fresh Parmesan
Directions
Set Anova Sous Vide Precision Cooker to 140°F/60°C.
Finely mince the onion and garlic. De-stem the fresh oregano and chop. Lastly, empty the tomatoes into a bowl and mash them with a potato masher until they're well mixed into the can juices.
Combine pork, beef, egg, oatmeal, half the onion, half the garlic, and salt and pepper to taste. Mix thoroughly with hands until well combined.
Use an ice cream scoop or your hands to make 8-9 meatballs. Each should be around 2-inches across.
Heat a large saucepan over high heat and add a few glugs of olive oil. Once the pan is piping hot, drop your meatballs in and sear on all sides. Set the meatballs aside.
Drain the majority of the excess fat from the pan and add the remaining onion. Scrape the fond from the pan as you cook the onion until it's translucent (use a little vegetable broth as needed to loosen the fond). Next stir in the garlic and the mashed San Marzano tomatoes and all the juices from the can. Salt & pepper to taste. Mix well and let simmer for 5 minutes. Turn off heat and let cool for five minutes.
Combine meatballs and sauce into a 1-gallon ziplock bag and use the water-submersion method to remove excess air.
Place bag in the water bath and set timer for 2 hours.
Plate and Serve
Remove bag from the water bath and place in a bowl. Take out the meatballs and place in a serving dish. Pour the sauce into the bowl. Boil half a pack of your favorite spaghetti until al dente and drain. Add some sauce to the pan and return the spaghetti to coat.
Plate up with two meatballs, freshly grated parmesan, and a nice sprig of fresh oregano.