Sous Vide Mojito Flan with Dark Rum Caramel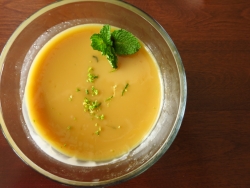 I admit it — this flan was inspired by the flavors of the mojitos I was making on this particular day. I changed it up a bit, using dark rum and turbinado sugar for the caramel, and I opted for lime zest in the custard as opposed to juice, which I think would curdle the cream. The end results were enjoyed by all. NOTE: Cooking times vary depending on the size of your custard cups. Also, a word of advice after several attempts at sous vide custards: the best results come from using something like a mason jar or a jar with a twist on lid, which create a true seal. I have lost one too many custards to a loose lid popping off and ruining my efforts. If you think you are going to do this, save a few small jars or buy the smallest size mason jars you can find.
Author
Barbara Freda
I grew up in a cooking family and after getting a degree in Spanish and Anthropology, realized what I really wanted to do was to go to culinary school. After working in a NYC bank for a few years, I managed to get to culinary school and got my first jobs in NYC kitchens, including a long stint at Union Square Cafe in its earliest years. After (sadly) leaving NYC, I realized I needed to step away from the 80-hour work weeks, so I left the heat of the kitchen for the cool of the computer keyboard: I started writing about food, the business of food, and technology in the food industry, as well as teaching cooking classes. Recipe development remains one of my top loves, and the opportunity to develop recipes for Anova has been fun every step of the way.
Prep Time: 00:50
Recipe Time: 01:30
Temperature : 179.6F / 82C
Ingredients
1 (14-ounce) can sweetened condensed milk
2 cups light cream
1 cup mint leaves, torn, plus more for serving
1/8 teaspoon mint extract
4 large eggs
1 1/3 cup turbinado sugar, divided
1 teaspoon finely grated lime zest
1/2 cup dark rum
Directions
Set the Anova Sous Vide Precision Cooker to 179ºF (82ºC). Gather 8 small canning jars with lids.
Whisk together sweetened condensed milk, light cream and torn mint in a saucepan over medium-high heat. Heat mixture to just below a simmer. Remove from the heat. Stir in mint extract and steep for 45 minutes.
While mixture cools, whisk eggs with 1/3 cup sugar until sugar is dissolved. Whisk in lime zest.
Prepare caramel: Combine rum and remaining cup sugar in a saucepan over medium-high heat. Bring to boil. Reduce heat to medium and continue to cook for 5 minutes without stirring. Make sure the sugar has dissolved. Remove from heat and divide evenly between jars.
Remove mint from the cream mixture. Whisk cream into the eggs. Gently ladle custard into jars with caramel.
Seal containers and place into hot water. Water should come at least halfway up containers. If you have mason jars with waterproof seal, you can let the water cover the jars. Note: if you have a small rack you can put into pot, this helps water circulate UNDER the jars, ensuring better water circulation.
Set the timer for 60 minutes. When the timer goes off, check on the custards. They should appear set but still soft. If they are not set, return to the water bath and set the timer for 30 more minutes.
Finishing Steps
When the custards are set, remove from the water bath. Dry and refrigerate for at least 2 hours before serving.
To serve, use sharp knife to loosen the edges of the custard. Place a plate over the jar and quickly invert, letting the custard gently fall onto plate and the caramel to pour over custard. Garnish with fresh mint, if desired. Serve.