Sous Vide Cherry Infused Bourbon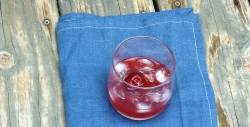 Use fresh cherries to make your own infused cherry bourbon in just 2 hours. With a Sous Vide method, you can drink it tonight instead of waiting weeks for it to infuse in your cabinet.
Author
Kathy Hester
The author of 5 cookbooks and the the blogger behind Healthy Slow Cooking. Kathy likes to show just how easy it is to make craft cocktails and healthy food.
Prep Time: 00:20
Recipe Time: 02:00
Temperature : 135F / 57.2C
Ingredients
1 pound / 454 g fresh cherries
1 1/2 cup / 355 ml bourbon
Directions
Set the Anova Sous Vide Precision Cooker to 135ºF (57ºC).
You can pit the cherries with a cherry pitter. If you don't have one, just cut an "x" shape on the bottom of each cherry and leave the pit in.
Add the cherries and bourbon to a plastic zip-seal bag and close. Mash the cherries by squeezing the sealed bag with your hands. Place in the water bath and cook for 2 hours.
Finishing Steps
Let cool to room temperature, then strain through a fine mesh strainer into a bowl with a pour spout. Pour into bottles, cover with a lid and store in the refrigerator.