Sous Vide Eggplant Parmesan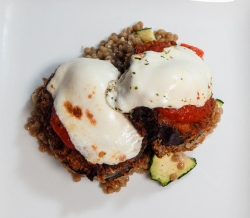 Sometimes you just feel like a healthy, simple recipe, right? I was having one of those nights, so I decided to create a vegetarian dinner (a rarity in my household) — but it went well! Serve and enjoy for your family.
Author
Mike Castaneda
Christian. Disabled veteran. Father. Named "One of the 10 best cooks in America" by Food Network, World Food Championship Qualified.
Prep Time: 00:45
Recipe Time: 00:40
Temperature : 183F / 83.9C
Ingredients
1 large eggplant, sliced into 1/4-inch-thick rounds
Salt and freshly ground black pepper
1/2 cup all-purpose flour
2 large eggs
1/2 cup panko bread crumbs
1/4 cup grated Parmesan cheese
1 (24-ounce) jar marinara sauce
8 ounces fresh mozzarella, thinly sliced
1/4 cup extra virgin olive oil
Directions
Set the Anova Sous Vide Precision Cooker to 183ºF (83ºC).
Generously season eggplant with salt. Place on a wire cooling rack and let rest for 10 minutes.
Rinse eggplant and pat dry with paper towels. Divide between 2 or 3 large zipper lock or vacuum seal bags, making sure that the eggplant lays in a single layer. Seal the bags using the water immersion technique or a vacuum sealer on the dry setting.
Place the bags in the water bath and set the timer for 40 minutes.
About 5 minutes before the eggplant is finished, prepare the dredging ingredients: Place the flour in a shallow bowl and season with salt and pepper. Crack the eggs into a second shallow bowl and whisk to combine. In a third shallow bowl, mix together the panko and the Parmesan.
Finishing Steps
When the timer goes off, remove the bags from the water bath. Remove the eggplant from the bags and season with salt and pepper.
One slice at a time, dredge the eggplant in the flour and then dip in the beaten eggs. Transfer to the bowl with the panko and toss to coat. Transfer to a plate.
Heat 2 tablespoons olive oil in a large skillet over medium-high heat. When the oil is shimmering, add the eggplant in batches and cook until well-browned on both sides, 3 to 5 minutes total. Repeat with remaining oil and eggplant.
Heat broiler to high.
Place eggplant on a foil-lined broiler-safe baking sheet. Top with marinara and mozzarella. Broil until cheese melts and begins to brown, 3 to 5 minutes. Serve.